The

Sift:

News

Goggles:

🏀

Sports

reporting

|

Hate

spikes

on

Twitter

|

Gaslighting
An educator's guide to
the week in news literacy
Teach news literacy this week
News Goggles: 🏀 Sports reporting | Hate spikes on Twitter | Gaslighting

Sports are an important part of many people's lives. For journalists covering the world of sports, reporting involves more than just publishing highlights, player statistics and scores. So, what's it like being a sports reporter?

This week, we talk to Candace Buckner of The Washington Post about her role as a sports columnist. Buckner sheds light on the differences between straight news beat reporting and opinion writing — and underscores how certain journalism practices and standards remain the same. Using her recent piece on Kyrie Irving as an example, Buckner explains her approach to column writing. We also discuss how sports intersect with culture and society and what sports reporting can teach us about the wider world. Grab your news goggles!

Note: Look for this newsletter feature the first Monday of the month. You can explore previous News Goggles videos, annotations and activities in NLP's Resource Library under "Classroom Activities."

Resources: "Practicing Quality Journalism" and "InfoZones" (NLP's Checkology® virtual classroom).

Idea: Have students hone their ability to separate news from opinion using NLP's mobile app, Informable, which includes dozens of real-world examples in its "News or opinion?" mode.
| | |
| --- | --- |
| | Dig deeper: Use this viewing guide for the featured News Goggles video to help students consider what it's like being a sports reporter. |
Top pick
There's been a sharp rise in hate speech on Twitter since billionaire Elon Musk took ownership of the platform over a month ago, according to research from the Center for Countering Digital Hate and the Anti-Defamation League. Researchers found that antisemitic posts on Twitter rose by 61% only two weeks after Musk became the site's owner, and posts with slurs against Black Americans and gay men also saw significant increases.

Musk has enacted several changes at Twitter, including large staff layoffs, ending enforcement of the site's COVID-19 misinformation policy and vowing to reinstate all previously suspended Twitter accounts after the results of a live poll he tweeted gained 72% "yes" votes in favor of the move. (Note: Twitter polls are not reliable reflections of public opinion.) A prominent neo-Nazi had his Twitter account restored. Some Twitter users are also concerned that Black Twitter — a "cultural powerhouse" for Black people online — will suffer or diminish in light of changes to the platform.

Discuss: Regardless of whether you use Twitter, how does hate speech on social media platforms affect your community? If you use Twitter, what other recent changes have you noticed on the platform? What responsibility do social media companies have in moderating hate speech and misinformation? If you were put in charge of Twitter, what types of content would you prohibit? Why?
Resource: "Misinformation" (Checkology virtual classroom).
Related:

Viral film regurgitates debunked vaccine claims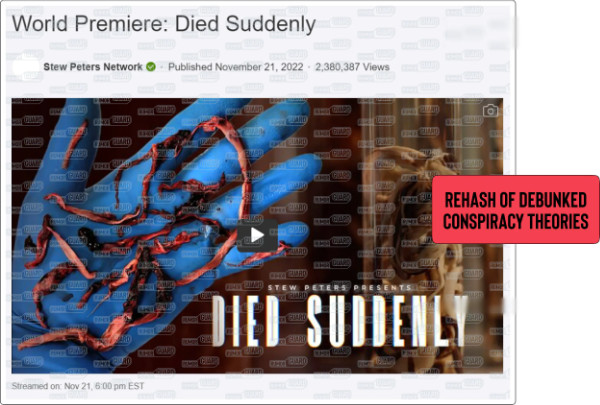 NO: People did not start "dying suddenly" after the COVID-19 vaccines were released. YES: Severe reactions to the shots are rare. NO: Some clips in the film supposedly show people dying unexpectedly but actually show incidents unrelated to the COVID-19 vaccine or people who didn't die at all.

NewsLit takeaway: Correlation does not imply causation.

The central thesis of Died Suddenly is summed up in the opening minutes when a funeral director notes that searching for "died suddenly" on Google yields numerous news articles about that topic. This is erroneously presented as an alarming trend (heightened by the spooky background music) that emerged simultaneously with the release of the COVID-19 vaccines. But that simply isn't true. People have "died suddenly" for centuries and an increase in excess deaths overall in 2021 was the result of the coronavirus, not the vaccine.

Documentary-style videos have proven popular in conspiracy theory circles. These films, such as Plandemic, 2000 Mules, and Died Suddenly, borrow some of the hallmarks of well-respected documentaries to make their claims seem more credible. While these films certainly have a higher production value than the typical social media post, this does not lead to more factually accurate claims. In fact, this video is largely comprised of claims that have already been debunked.
World Cup becomes flashpoint for false claims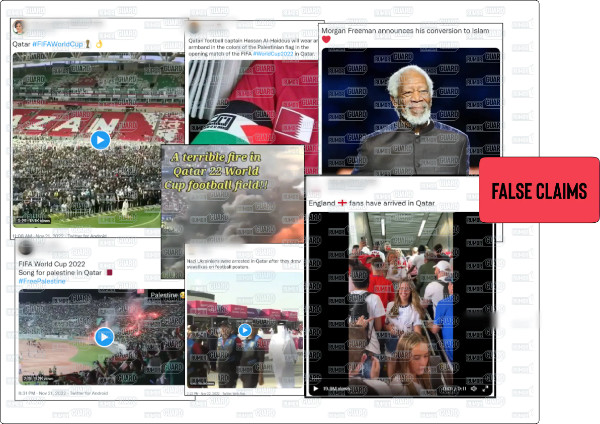 NO: A video of a crowd singing in support of Palestine was not taken at the 2022 World Cup. (The footage comes from Moroccan soccer fans singing at a match in 2019.) NO: A viral video does not show a large fire in the stands at the World Cup this year. (It shows a fire that started in the stands of a 2018 soccer match in Germany after fans threw fireworks.) NO: A video showing hundreds of people praying on the field was not captured at the 2022 World Cup. (The video shows people praying at a match in Kazan, Russia, more than three years ago.) NO: Al-Jazeera did not report Ukrainian fans had been arrested for drawing swastikas at the 2022 World Cup. (The viral video is a fabrication.) NO: Photos do not show garbage and other refuse left behind in the locker room after Japan's loss to Costa Rica. (These photos were taken at a different soccer event in March.)

NewsLit takeaway: Any event that garners sustained global attention becomes a flashpoint for misinformation, and this year's World Cup tournament is no exception. Because out-of-context visuals are easy to pass off as "evidence" for a false claim, many examples of disinformation about the World Cup use this popular tactic. It is especially effective with video clips that are, in and of themselves, attention-grabbing and accompanied by captions that falsely connect to a larger, trending issue.

This is sometimes done to "farm" engagement (likes and shares), but it's also used to push ideological claims to a wide audience. So far, the World Cup has been used as cover to spread false rumors about Qatar's relationship with Palestine, to exaggerate and deepen cultural differences between the Western world and the Middle East, and to smear Ukrainians.

Remember, purveyors of disinformation often use trending topics to spread false claims. Reverse image searches, lateral reading and a little patience can help social media users determine the truth behind viral content.
Altered video depicts fake meteor strike near Germany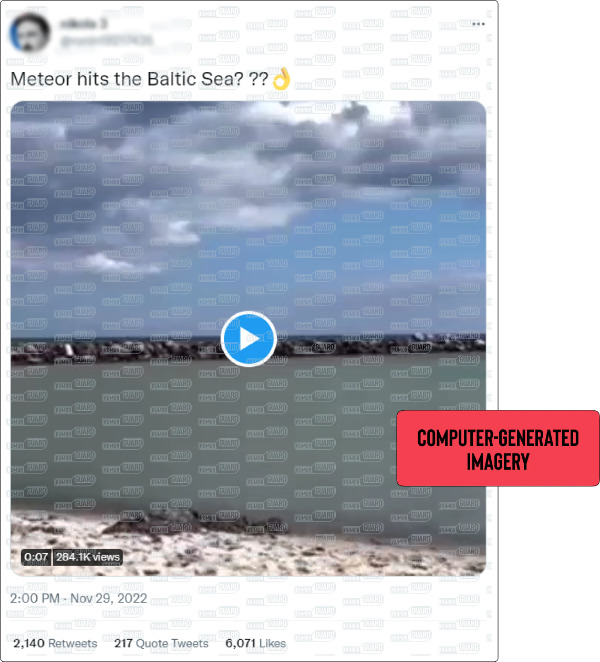 NO: This video does not show an actual meteor striking off the coast of Germany. YES: The meteor in this video is a digital fabrication created by a computer graphic artist.

NewsLit takeaway: CGI videos, which are created with computer-generated images, often depict scenes or events that would be shocking or amazing if they were real. They are typically highly engaging on social media. Some posters use them as a tactic for scoring viral hits by simply miscaptioning a convincing piece of digital artwork and sharing it as if it were footage from an actual event.
You can find this week's rumor examples to use with students in these slides.

| | |
| --- | --- |
| | Press coverage of missing persons is notoriously inconsistent and unfair, which spurred the "Missing White Woman Syndrome" euphemism. A new tool recently launched by the Columbia Journalism Review estimates how many news stories would be devoted to a person if they went missing, based on their age, gender, race and a database of 3,600 articles from last year about missing people. |
| | A new app developed by Massachusetts Institute of Technology researchers provides a measure of how much political misinformation a Twitter user is exposed to, depending on which politicians and organizations they follow and their corresponding PolitiFact ratings. |
| | Amid a year of deepfakes, dark web, deep states, fake news and trolling, the Merriam-Webster word of the year is ... (drumroll) … "gaslighting" — the act of psychologically manipulating someone over time. In 2022 there was a whopping 1,740% increase in people looking up the word. |
| | The Chinese government censored news reports about large demonstrations in China against the unpopular coronavirus restrictions there, but protest footage shared on Twitter made it through the filter. |
| | New Jersey is poised to become the first state to require media literacy curriculum in every grade level from kindergarten through 12th grade after a bipartisan bill was recently passed by its state legislature. |
| | In the mood for a journalism movie in between all the Hallmark holiday movies? Check out this list of 25 best journalism movies compiled by Poynter. |
| | Spotify Wrapped is popular and cool, but a new tool to review your year in news consumption from The Washington Post — called "Newsprint," aka "Washington Post Wrapped" — might just be cooler. |
Love The Sift? Please take a moment to forward it to your colleagues. They can also subscribe here.
Thanks for reading!
Your weekly issue of The Sift is created by Susan Minichiello (@susanmini), Dan Evon (@danieljevon), Peter Adams (@PeterD_Adams), Hannah Covington (@HannahCov) and Pamela Brunskill (@PamelaBrunskill). It is edited by Mary Kane (@marykkane) and Lourdes Venard (@lourdesvenard).

You'll find teachable moments from our previous issues in the archives. Send your suggestions and success stories to [email protected].

Sign up to receive NLP Connections (news about our work) or switch your subscription to the non-educator version of The Sift called Get Smart About News here.
Check out NLP's Checkology virtual classroom, where students learn how to navigate today's information landscape by developing news literacy skills.