The

Sift:

Twitter

bans

political

ads

|

Russia's

new

tactics

|

TikTok

investigated
An educator's guide to
the week in news literacy

| | | |
| --- | --- | --- |
| By | | |
Twitter's political ad ban
In marked contrast to recent statements by Facebook founder and CEO Mark Zuckerberg, Twitter co-founder and CEO Jack Dorsey announced in a series of tweets last Wednesday that his social media platform would ban all political advertising starting Nov. 22, explaining that "this isn't about free expression" — as Zuckerberg has argued — and that the reach of political messages should not be bought.

"While internet advertising is incredibly powerful and very effective for commercial advertisers, that power brings significant risks to politics, where it can be used to influence votes to affect the lives of millions," Dorsey wrote.

He continued, in an apparent dig at Facebook: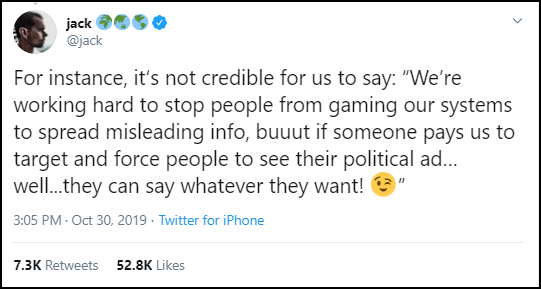 Dorsey made his announcement shortly before Facebook reported its quarterly earnings; during a call with industry analysts, Zuckerberg doubled down on his defense of his company's policies on political advertising. (In September, Facebook announced that under a "newsworthiness exemption," it would continue to exempt politicians' posts and ads from its independent fact-checking program — a position that Zuckerberg reinforced in his Oct. 17 speech at Georgetown University.)

On the earnings call, Zuckerberg noted that Facebook is not motivated by making money from political ads, which he estimated would bring in less than 0.5% of the company's revenue next year.

"In a democracy, I don't think it's right for private companies to censor politicians or the news. And although I've considered whether we should not carry these ads in the past, and I'll continue to do so, on balance so far I've thought we should continue," he said.

Facebook's policies have faced wide criticism, including dissent from within the company. Reaction to Twitter's announcement has been mixed, including both applause and rebukes.
Twitter will "share" a final version of its policy by Nov. 15 (there will be a few exceptions to the ban, such as ads supporting voter registration), and it will take effect a week later, Dorsey said. The new policy also will prohibit issue ads, which Facebook allows.
Note: Adriel Hampton, a political activist in San Francisco, registered as a candidate for California's 2022 gubernatorial election last week — primarily to protest Facebook's policies that allow politicians to post falsehoods on the platform, CNN Business reported. A Facebook representative told the network that Hampton's content would indeed receive independent fact-checking since he made it clear that he registered as a candidate to circumvent the company's policies.
Related:
Discuss: Do you agree with Twitter's decision to ban political ads, or do you favor Facebook's policies permitting such ads and exempting candidates' posts and ads from its fact-checking program? Which approach do you think is better for healthy civic discourse and democracy? What role should social media platforms and tech companies play in the fight against misinformation?
Idea: Have students review both Dorsey's and Zuckerberg's views on political and issue ads. Then divide students into two groups (one representing Twitter/Dorsey's position and the other Facebook/Zuckerberg's position) and have the groups debate whether political and issue ads should be allowed on their platforms.
Another idea: Ask students to list the pros and cons of each company's political ad policy, then develop their own policies.
Viral rumor rundown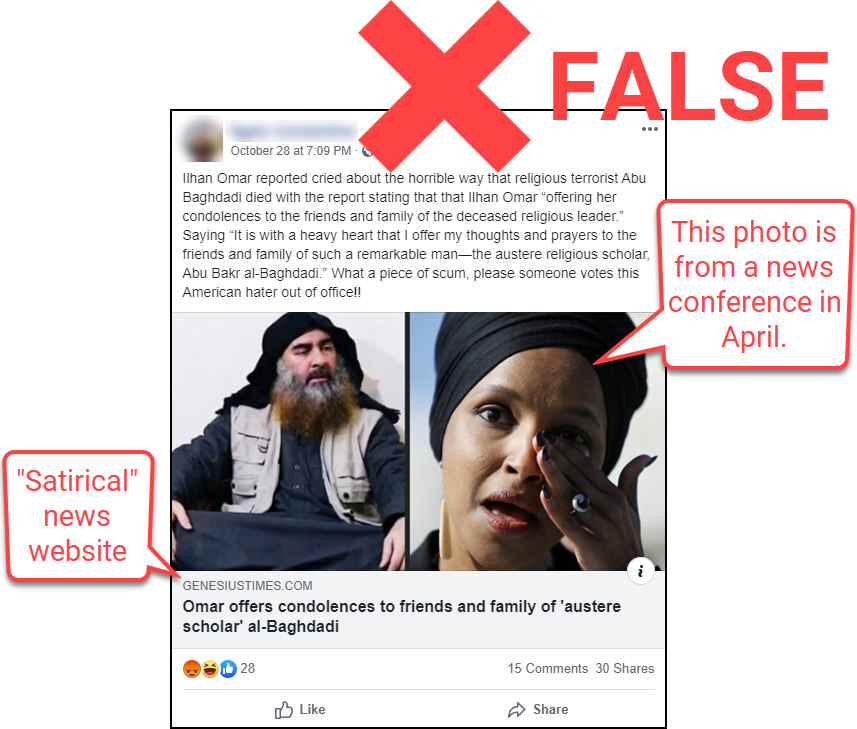 Click the image to view a larger version.
NO: Rep. Ilhan Omar, a Minnesota Democrat, did not cry, praise or offer condolences to the family of Abu Bakr al-Baghdadi, the founder and leader of the Islamic State terrorist organization, after he killed himself on Oct. 27 during a U.S. military raid. YES: A "satirical news" website — Genesius Times — published a fictional piece last week based on this claim. YES: The photo of Omar used in the Genesius Times item (and in the Facebook post above) is from a news conference in April.
Note: While the Genesius Times' tagline provides a prominent disclaimer in its header about the site's lack of credibility ("The most reliable source of fake news on the planet"), the comments about this item on social media and on the website suggest that a significant number of people believed it.
Also note: The Genesius Times website contains ads placed by RevContent, a digital ad broker, and claims to be a participant in an affiliate advertising program run by Amazon.
Discuss: Does this website count as satire? Is its style of satire ethical?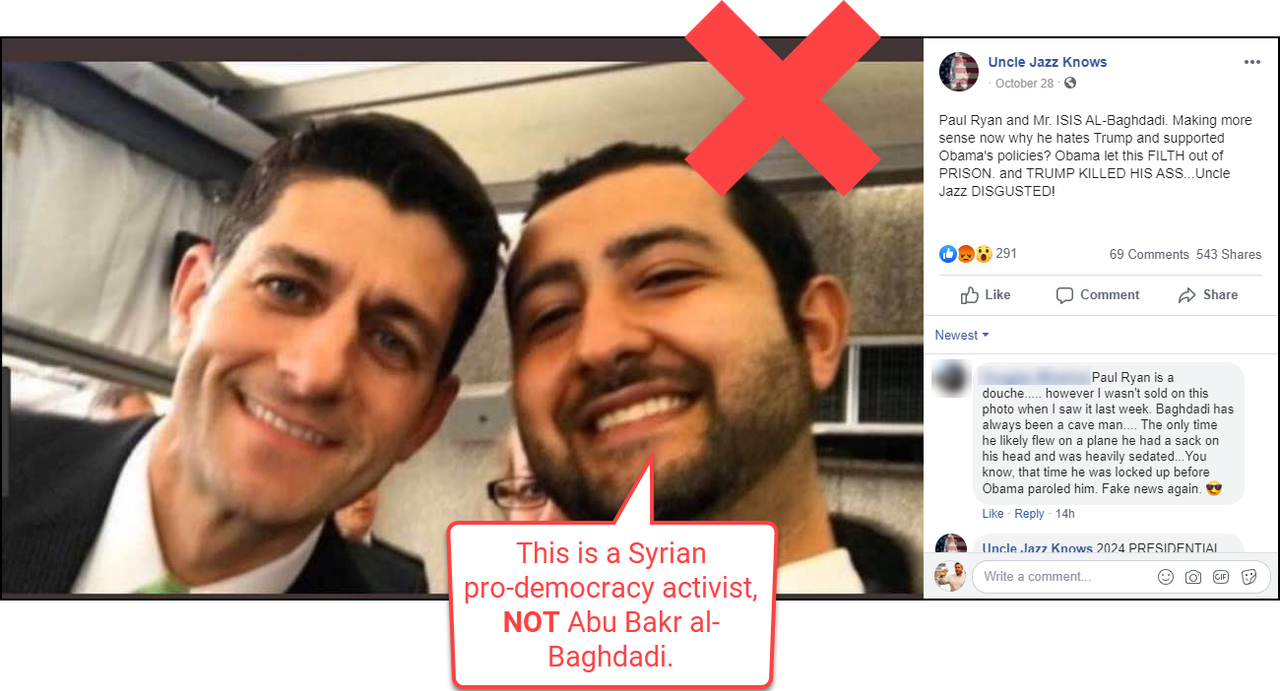 NO: The man on the right is not Abu Bakr al-Baghdadi. YES: He is Mouaz Moustafa, the executive director of the Syrian Emergency Task Force, a nonprofit organization that advocates for democracy in Syria. Moustafa posted this selfie to his Instagram account in May 2016 after meeting with then-House Speaker Paul Ryan to discuss the situation of civilians in Syria.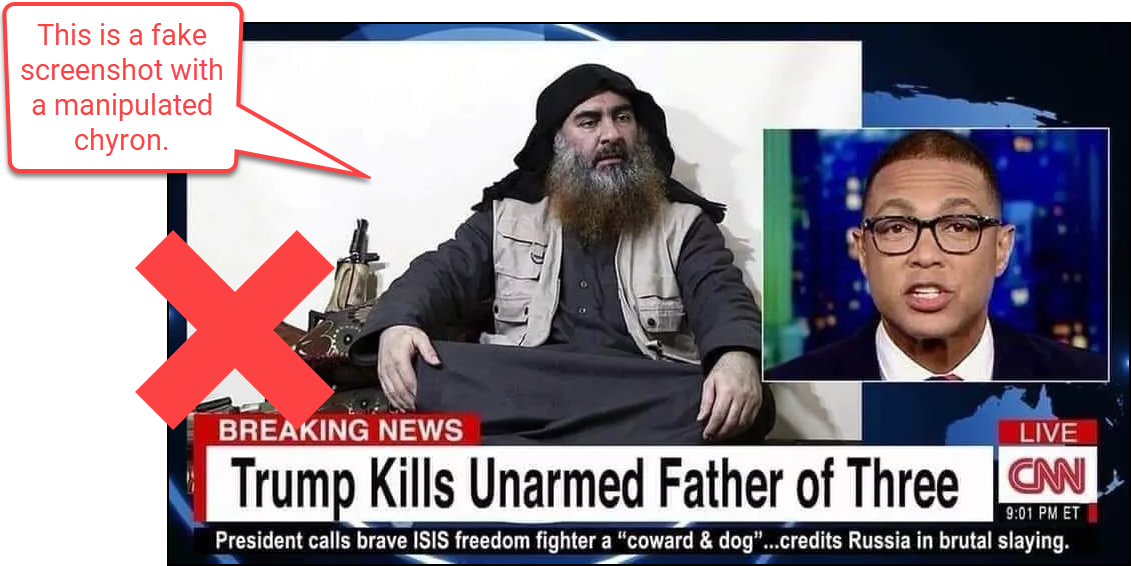 NO: CNN did not describe Abu Bakr al-Baghdadi as an "unarmed father of three" on a chyron during a news broadcast. NO: CNN did not refer to the terrorist leader as a "brave ISIS freedom fighter" on screen during a broadcast. NO: The image of CNN anchor Don Lemon in this fake screenshot is not from October 2019. YES: It has been around since at least December 2018.
Note: As the fact check from Snopes points out, this fake screenshot appears to be an allusion to a headline on The Washington Post's website that referred to Baghdadi as an "austere religious scholar," prompting sharp criticism.
Discuss: Do you think that this fake screenshot was created as a joke? Is there evidence that it tricked people who saw it online? Why do people manipulate screenshots of newscasts? Once a fake screenshot is created, can it be controlled online? What direct or indirect effects might this fake screenshot have when someone mistakes it as authentic?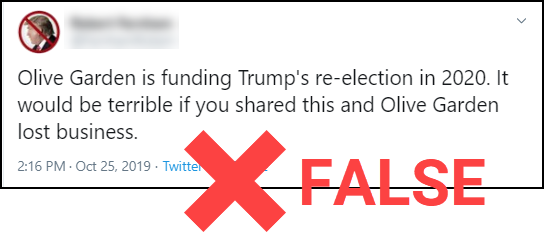 NO: Olive Garden is not contributing to President Donald Trump's re-election campaign. NO: The parent company of Olive Garden, Darden Restaurants, also has made no such donation. YES: This rumor — often with the exact same language as in the tweet above — has circulated since August.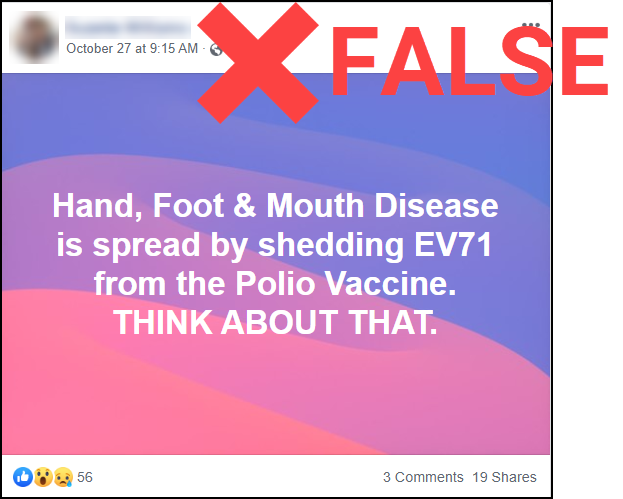 NO: Children who are vaccinated against polio do not "shed" the poliovirus or the EV71 enterovirus, which causes hand, foot and mouth disease. NO: The polio vaccines available in North America are not live; they contain only killed versions of the poliovirus. YES: Many instances of this claim are derived from a piece published by Health Freedom Idaho (HFI) in June 2018 that has since been corrected.
Note: HFI is also opposed to government regulation of health practices and promotes a variety of health-related conspiracy theories, including those that question the safety of vaccines and genetically modified organisms.
Also note: Similar false rumors that people who get the flu shot — another inactivated vaccine that cannot cause infection — are "an active, live walking virus" have also circulated this season.
Discuss: What is the difference between a "live" vaccine and one that is "inactivated"? What is the potential impact of misinformation about various vaccines?
Idea: Using a problem-based learning approach, task students with eradicating misinformation about the flu shot in their family or community. Consider partnering with a local medical expert to review student work before it is shared with the public.
NO: This meme comparing Honduras and Switzerland is not true. NO: Honduras does not ban citizens from owning guns. YES: A gun law that took effect in May allows Honduran citizens who are at least 21 years old and who pass a psychological test, a drug and alcohol screen and a firearms-handling course to own up to three firearms. They may also carry a firearm. (Under the previous law, people could legally own as many as five guns.) NO: Honduras does not have the highest homicide rate in the world. YES: In 2017, the most recent year for which information is available, Honduras' homicide rate was the third-highest in the world (41.7 per 100,000 people), according to the United Nations Office on Drug and Crime. NO: Switzerland does not require its citizens to own guns. NO: Switzerland does not have the lowest homicide rate in the world. YES: It is tied with three other countries for the fourth-lowest homicide rate (0.5 per 100,000 people) on the United Nations Office on Drug and Crime list for 2017. NO: Neither Honduras nor Switzerland has a population of 8.2 million. YES: Honduras' current population is just over 9.2 million; Switzerland's is more than 8.6 million.
Five to teach
Facebook has removed several networks of Russian-run accounts focused on countries in Africa, and experts say that the tactics employed by this operation likely indicate how Russian disinformation strategy has evolved in recent years. While the goals of these influence campaigns seem similar to those of previous efforts — promoting Russian policies and interests while working against the policies and interests of Western nations — their methods showed a shift away from the fake accounts based in Russia and toward accounts created locally, making them harder to detect. The networks also included local media organizations — both existing outlets and new ones established by the Russians — that employed residents to post propaganda, as well as individuals' accounts that had been taken over by hackers.

Note: The Russian influence networks in Africa were connected to Yevgeny Prigozhin, the oligarch who ran the notorious Internet Research Agency, which spearheaded Russia's interference in the 2016 U.S. presidential election. As part of the investigation by special counsel Robert S. Mueller III, a federal grand jury in Washington indicted Prigozhin, 12 other Russians and three Russian companies last year.
Related: "Powerful 'Putin's chef' Prigozhin cooks up murky deals" (BBC)
Discuss: How many people do you interact with online without knowing who they really are? Has anyone you don't know ever asked you to "like" or share something on social media? Does this item change the way you think about messages on social media that encourage sharing? How can Americans avoid being used by foreign governments seeking to establish influence networks in the U.S.? What do your parents and grandparents not know — but should know — about such influence operations?
Deadspin was left without a staff last week after leaders of its new parent company, G/O Media, mandated that the website cover only sports-related topics. (The site, founded in 2005 as a sports blog, expanded its coverage areas over the years to include media, politics and culture; it and other former Gawker Media websites were purchased earlier this year by Great Hill Partners, a private equity firm.) In a memo to staff last Monday, G/O Media editorial director Paul Maidment told employees that sports "will be the sole focus" and "Deadspin will write only about sports and that which is relevant to sports in some way," The Daily Beast reported. The company said that the decision stemmed from audience data indicating that readers wanted more sports coverage — but the numbers suggest otherwise, according to the Los Angeles Times.

On Tuesday, the staff protested by publishing non-sports material — and interim editor-in-chief Barry Petchesky was fired, he said on Twitter, "for not sticking to sports." On Wednesday, at least 10 Deadspin journalists announced that they had quit. On Friday, Dave McKenna, the last writer from a staff of more than 20, left (after being promoted to editor-in-chief on his last day), as did senior editor Diana Moskovitz. Democratic presidential candidates Bernie Sanders and Cory Booker tweeted their support of Deadspin employees and independent journalism.

Discuss: Should the parent company or owners of a news organization mandate what should be covered by the organization's staff? How could this be problematic? What might it say about the staff's coverage if they went along with what the parent company and owners wanted? What can newsrooms do to protect their organizations from being acquired and stripped down by corporate owners that are not interested in supporting quality journalism?
Related: "In historic shift, The Salt Lake Tribune gets IRS approval to become a nonprofit" (Matt Canham, The Salt Lake Tribune)
The owner of the popular video-sharing platform TikTok is being investigated by the Committee on Foreign Investment in the United States (CFIUS), an interagency committee, based in the Treasury Department, that monitors threats to national security posed by foreign investment. TikTok's parent company, ByteDance, is located in Beijing and has been accused of censoring political content, including videos of anti-government protests in Hong Kong. CFIUS is looking into ByteDance's acquisition two years ago of Musical.ly, a lip-sync video app that focused primarily on the U.S. market and partnered with large U.S. media companies. ByteDance later combined the user accounts of Musical.ly and TikTok, and merged the two apps into one. The panel is also examining how TikTok stores the data of its U.S. users.

Related: "The Trouble with TikTok" (Michael J. Socolow, Politico)
Discuss: How does TikTok generate revenue for ByteDance? What relationship does ByteDance have with the Chinese government? Is TikTok available in China? How could TikTok be weaponized by foreign interests looking to manipulate people in the U.S.? What is ByteDance's track record on user privacy? How could TikTok user data be used by bad actors online? Should news organizations use TikTok to reach young audiences?
The right way for a news organization to apologize for racist practices — including historical coverage that openly provoked racial hatred and supported violence by white supremacists — includes several key components, journalism scholar Robin Hoecker writes in an Oct. 29 piece published by Poynter.

Hoecker, an assistant professor at DePaul University's College of Communication, lays out what should be included in a meaningful apology: being proactive and transparent, accepting blame and identifying harm, ensuring that the statement includes the voices of affected communities, addressing newsroom diversity, acknowledging that institutional racism still affects coverage, and explaining what changes will be made to avoid these mistakes. To be effective, she says, the statement should come from the organization's leadership — the editor in chief or the editorial board.

Discuss: Why do you think some news coverage in the past was blatantly racist? How has racism in news coverage improved in the last 50 or 100 years? How does racism still affect news coverage?
Idea: Have students analyze a local news organization's historical news coverage of its city or community and ask them to flag examples of coverage that they feel is overtly racist. Then send a copy of this collection of coverage, with an analysis from the students, to the editor, perhaps requesting that the outlet acknowledge and apologize for the coverage (if it hasn't already done so).
Related: "Maligned in black and white" (Mark I. Pinsky, Poynter)
What else did we find this week? Here's our list.
Thanks for reading!
Your weekly issue of The Sift is put together by Peter Adams (@PeterD_Adams) and Suzannah Gonzales of the News Literacy Project.
You'll find teachable moments from our previous issues in the archives. Send your suggestions and success stories to

[email protected]

.
Sign up to receive NLP Connections (news about our work) and Get Smart About News (news literacy tips).
Check out NLP's Checkology virtual classroom, where students learn how to navigate today's information landscape by developing news literacy skills.