GSAN:
Does
tech
owe
journalism?
|
Double
mask
rumor
|
Marty
Baron
interview
Subscribe to our free weekly newsletter for the general public Get Smart About News.
Your guide to
the week in news literacy
Learn about news literacy this week
Does tech owe journalism? | Double mask rumor | Marty Baron interview
| | |
| --- | --- |
| | NOTE: The News Literacy Project staff is off next Monday for Presidents Day. Get Smart About News will return on Tuesday, Feb. 23. |
Local newspapers versus tech giants
A West Virginia-based newspaper publisher, HD Media, has filed a federal antitrust lawsuit against Google and Facebook, contending the tech giants are unfairly dominating the digital advertising market and putting the journalism industry at risk. Editor & Publisher, which first reported on the suit filed on Jan. 29, called the case the "first-of-its-kind."

Quality journalism depends on funding from newspaper advertising revenue, which has fallen by more than 50% over the last 15 years, according to the suit. Tens of thousands of newspaper jobs also have vanished, representing a 60% decline in the industry since 1990. Google and Facebook, in the meantime, comprised more than half of all digital ad spending in the United States in 2019. The suit said: "The reduction in revenues to newspapers across the country, including [HD Media], were directly caused by Defendants' conduct … and went directly into Google's coffers." While journalists and industry observers have been monitoring such trends for years, this legal action is a notable development in news organizations' ongoing tensions with Big Tech.
Viral rumor rundown
NO: Georgia Republican Rep. Marjorie Taylor Greene did not say "If English was good enough for Jesus, it's good enough for us." YES: This quote has been used to deride various public officials since at least 1976. YES: A version of the quote also appears in this Los Angeles Times report from 1970.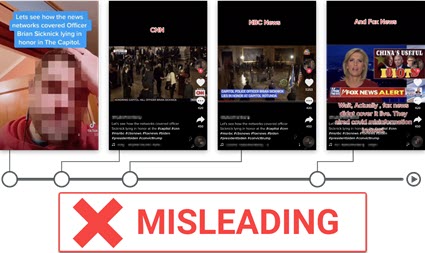 NO: Fox News did not fail to cover Brian Sicknick, the U.S. Capitol Police officer who died following the Jan. 6 insurrection, lying in honor in the Rotunda. NO: The news clips in this TikTok video do not all show coverage from the same date and time. YES: Fox News was criticized for devoting significantly less time than the other networks to President Joe Biden and first lady Jill Biden paying their respects to Sicknick late in the evening on Feb. 2. YES: Fox News carried a live feed of the memorial ceremony for Sicknick on Feb. 3 for about 24 minutes — from approximately 10:30 a.m. ET until about 10:54 a.m. ET — during America's Newsroom hosted by Bill Hemmer and Dana Perino.

Note: The links above are from the Internet Archive's television archive. The Fox News archive reflects the network's West Coast broadcast and shows times in the Pacific time zone.
NO: There is not only one airplane that is called Air Force One. YES: The "Air Force One" call sign is used for any airplane with the president of the United States on board. YES: There are smaller planes — like the C-32 model that President Joe Biden took to Delaware on Feb. 5 — in the fleet that the Air Force uses to transport the president. YES: The two planes most commonly referred to as "Air Force One" are based on the Boeing 747 airframe, like the one pictured at the top of this meme. YES: As Snopes reported, former President Donald Trump also used the C-32 as Air Force One.

Note: This is a narrative fragment of the QAnon conspiratorial belief system that persists in maintaining the delusion that President Biden's inauguration was fake and that he is not actually president.
NO: The Centers for Disease Control and Prevention (CDC) did not issue an order "demanding" that people wear two masks. YES: The CDC on Jan. 29 issued an order requiring passengers and operators of public transportation to wear a mask "made with two or more layers of a breathable fabric that is tightly woven" starting on Feb. 2. NO: The recommendation to ensure that cloth masks have multiple layers of fabric is not new and was made earlier in the pandemic.

Note: As FactCheck.org (linked above) points out, following the sourcing of this distorted claim about the CDC order is a case study in how false assertions often spread online. The Ron Paul Institute cites ZeroHedge, a far-right libertarian site that began as a financial blog but expanded into conspiracy theories and fringe commentary. ZeroHedge credits a website called Planet Free Will, which attributes the story to the notorious conspiracy and health supplement outlet Infowars, which is owned by conspiracy theorist and provocateur Alex Jones.
★ NewsLit Picks
Featured
"Marty Baron Considers His Time at the Washington Post" (Isaac Chotiner, The New Yorker).

Marty Baron, a longtime leader of American newsrooms, has announced that he is stepping down as executive editor of The Washington Post and will retire Feb. 28. Prior to joining the Post in 2013, Baron also led The Boston Globe and The Miami Herald, charting a career that spanned more than four decades of enormous change in the journalism industry. This New Yorker interview, in which Baron reflects on his tenure at the Post, highlights several important news literacy takeaways, including the impact of social media on newsrooms, the ethics surrounding Jeff Bezos' ownership of the news organization and the meaning of journalistic objectivity.

Note: Baron is a longtime supporter of NLP's work and a member of NLP's philanthropic Visionary Circle.

Also note: The Post is one of several major news organizations looking for new leadership.

Related: "Rolling Stone Seeks New Editor Amid Industry-Wide Leadership Shuffle" (Joe Pompeo, Vanity Fair).
Quick Picks
"TikTok Is Adding a Potential Misinformation Warning Label to Save Us From Ourselves" (Whitney Kimball, Gizmodo).
Note: This Twitter thread from Tommy Shane, of First Draft, explores how the design and functionality of TikTok's new misinformation labels may impact their effectiveness.
Also note: In a Feb. 7 Bloomberg opinion column, Cass R. Sunstein argues that because we are all vulnerable to "truth bias" — the persistent sense that there is at least some truth to everything we hear — labeling misinformation online doesn't reverse its effects.
Related: "TikTok takes on the mess that is misinformation" (Danielle Abril, Fortune).
"Journalist identities hijacked to spread fake news" (Sara Fischer, Axios).
Tip: Screenshots of news reports that are shared without the link to the actual story are a red flag.
Related:
"Student journalists at an HBCU campus newspaper took on racist local media—and won" (Alexis Wray, Scalawag)
Thanks for reading!
Your weekly issue of Get Smart About News is created by Peter Adams (@PeterD_Adams), Suzannah Gonzales and Hannah Covington (@HannahCov) of the News Literacy Project. It is edited by NLP's Mary Kane (@marykkane).

Sign up to receive NLP Connections (news about our work) or switch your subscription to the educator version of Get Smart About News called The Sift® here.
Check out NLP's Checkology virtual classroom, where students learn how to navigate today's information landscape by developing news literacy skills.