GSAN:

World

press

freedoms

|

AI

'news'

sites

|

Black

press
Your guide to the
week in news literacy
Learn news literacy this week
World press freedoms | AI 'news' sites | Black press
Note: Please take a few minutes to complete our annual reader survey and tell us how this newsletter can better meet your needs as we gear up for the summer.
Top picks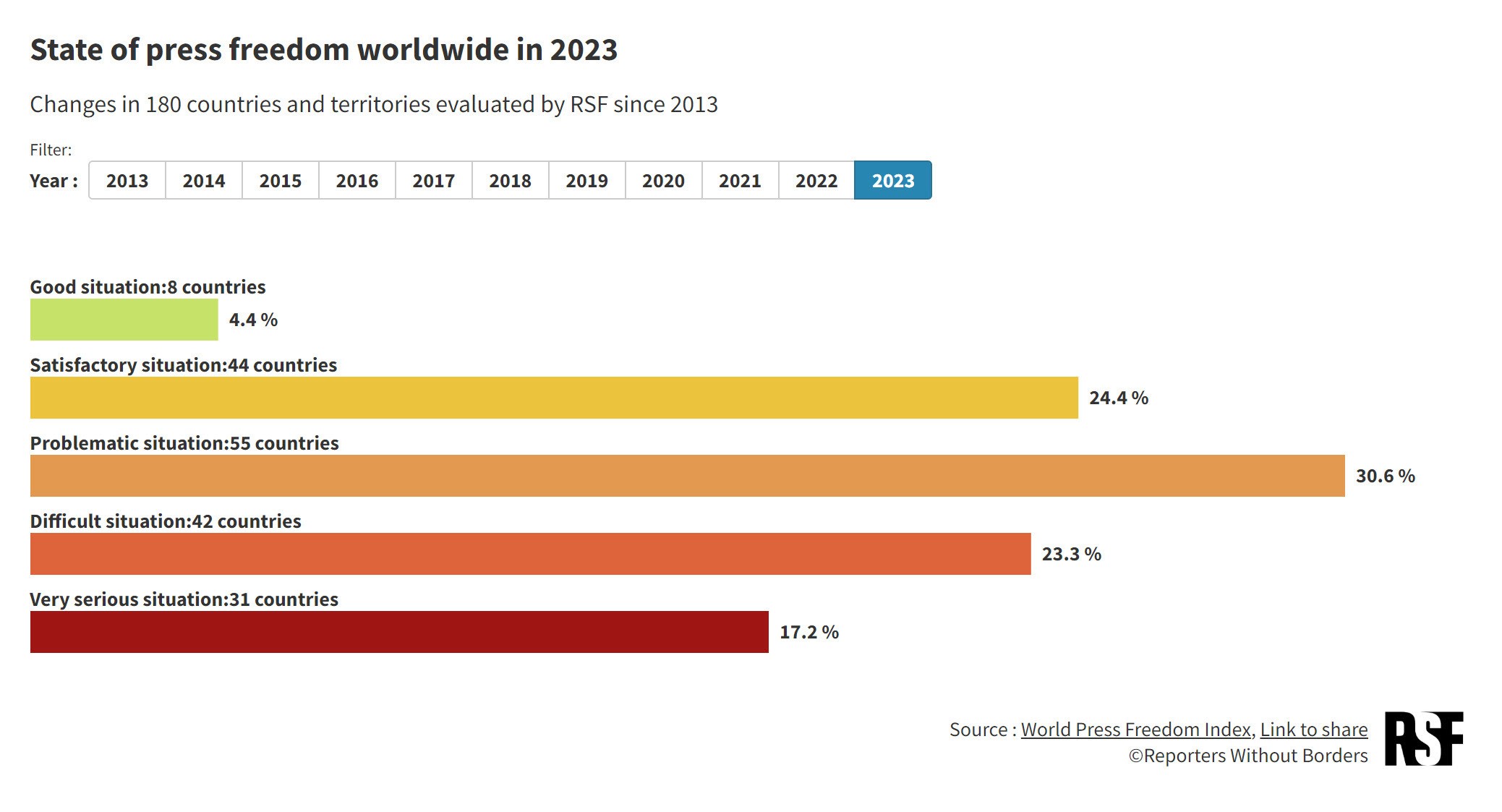 Press freedoms are under threat worldwide, with most countries in a "problematic," "difficult" or "very serious situation." (Image credit: Reporters Without Borders)
Journalists around the world face a press environment that is either very serious, difficult or problematic in 128 out of 180 countries, according to Reporters Without Borders findings published on May 3 — World Press Freedom Day. Reporting conditions are "satisfactory" in only three out of 10 countries, RSF said.

The 2023 World Press Freedom Index spotlighted the effects and growth of the "fake content industry," or massive disinformation and propaganda campaigns aided by increasingly sophisticated artificial intelligence tools. RSF noted that blurred lines between facts and falsehoods ultimately weaken journalism. RSF also pointed to Twitter owner Elon Musk's "arbitrary" decisions and payment-based approach as examples of how "platforms are quicksand for journalism."

Norway (1), Ireland (2) and Denmark (3) claimed the top three spots in the ranking, while Vietnam (178), China (179) and North Korea (180) ranked at the bottom of the index for press freedom. The U.S. (45) dropped three spots, which RSF attributed to a variety of factors, including economic difficulties for news media and the murders of Nevada investigative journalist Jeff German and Florida television reporter Dylan Lyons.
| | |
| --- | --- |
| | Artificial intelligence software is being used to generate news websites with unreliable and low-quality content, including sites that amplify false narratives, a NewsGuard analysis found. NewsGuard identified 49 AI-generated news websites in seven languages last month. Many of the articles on these websites aren't credited to real people, but instead have a generic byline like "Admin" or first names with inauthentic profile pictures. Some articles and headlines even included phrases that appeared to be from generative AI tools in response to prompts, such as, "I am not capable of producing 1500 words" or "I cannot complete this prompt." AI tools appear to produce false information in some of the sites, including one that incorrectly reported President Joe Biden's death — followed by a chatbot disclaimer against generating misleading content. |

Love RumorGuard? Receive timely updates by signing up for RG alerts here.
AI-generated image shared as 'evidence' that film director Stanley Kubrick staged the moon landing
NO: This is not an authentic photo of filmmaker Stanley Kubrick "directing" a staged moon landing. YES: It is an AI-generated image that was originally published to a Facebook group called "AI Art Universe" in July 2022. YES: The image recently went viral among flat-Earth conspiracy believers after far-right conspiracy theorist Stew Peters posted it to Twitter on April 30, garnering more than 1.6 million views.

NewsLit takeaway: Incomprehensible events sometimes lead people to embrace simpler, false explanations. And although it has been nearly 54 years since Apollo 11 landed on the moon, conspiratorial beliefs that the event was staged have proven shockingly resilient. One explanation some moon-landing deniers embrace is that the U.S. government hired Kubrick to stage the landing to embarrass the Soviet Union during the Cold War. Why? Possibly because the moon landing happened in 1969, the year after Kubrick directed 2001: A Space Odyssey with a scene on the moon's surface that amazed audiences.

This strand of belief among flat-Earth followers and others who claim the moon landing was staged persists today — and when "evidence" emerges online that seems to support this absurd idea, it is readily embraced by those who find the fiction of a conspiracy easier and more empowering to believe than the still-amazing truth.

| | |
| --- | --- |
| | The gruesome images of victims of a May 6 mass shooting at a Texas mall that went viral on Twitter sparked renewed debate among journalists and researchers about how graphic images should be moderated on social media platforms. |
| | NPR's listeners are overwhelmingly white (76%), as is NPR's on-air "voice," which is predominantly white and male. Now, as the news organization aims to diversify staff and audience, four NPR hosts who are women of color share their experiences and discuss why representation matters in journalism. |
| | Survival instincts are part of the Black experience in America, and those instincts are also how the Black press is finding ways to stay afloat amid the news industry's financial crisis, according to four Black publishers. |
| | An Arizona official from Maricopa County was diagnosed with post-traumatic stress disorder after years of death threats and harassment from election deniers. Now he's speaking out about his treatment and encouraging other officials who have experienced the same. |
| | Nearly three-quarters of American adults believe "news media is increasing political polarization in this country," a new survey found. Republicans were more likely to say news media is hurting democracy (61%) compared to Democrats (23%) and independents (36%). |
| | |
| --- | --- |
| | Could you tell whether the election ad was AI-generated? CNN's Donie O'Sullivan asked people walking near the White House, and responses were mixed. |
Love this newsletter? Please take a moment to forward it to your friends. They can also subscribe here.
Thanks for reading!
Your weekly issue of Get Smart About News is created by Susan Minichiello (@susanmini), Dan Evon (@danieljevon), Peter Adams (@PeterD_Adams), Hannah Covington (@HannahCov) and Pamela Brunskill (@PamelaBrunskill). It is edited by Mary Kane (@marykkane) and Lourdes Venard (@lourdesvenard).

Sign up to receive NLP Connections (news about our work) or switch your subscription to the educator version of Get Smart About News called The Sift® here.
Check out NLP's Checkology virtual classroom, where you can learn to better navigate today's information landscape by developing news literacy skills.