The

Sift:

AI

chatbot

data

|

Podcasts'

popularity

|

Distrust

in

news
An educator's guide to
the week in news literacy
Teach news literacy this week
AI chatbot data | Podcasts' popularity | Distrust in news
Coming up:

Data journalist Nami Sumida creates interactive graphics for The San Francisco Chronicle. NLP's Hannah Covington interviews her for News Goggles in our upcoming May 1 newsletter.
Top picks
Participants in a Reuters Institute study about trust in news among marginalized groups expressed concerns about bias and negative framing. (Illustration credit: Reuters Institute)
| | |
| --- | --- |
| | Why do some marginalized people distrust the news? There are several reasons, including misrepresented, unfair, biased or underrepresented media coverage, according to a new Reuters Institute report. The study collected data from 41 focus groups from audiences from disadvantaged communities in the U.S. (Black and rural), U.K. (working class), India (marginalized castes, tribes and Muslims) and Brazil (Black and mixed race). Among the report's recommendations were for newsrooms to diversify staff — although some study participants were notably wary of performative efforts — and for journalists to make a genuine effort to understand and appreciate the distinct needs of different audiences. |
Press freedoms have "gotten worse everywhere" and a record number of journalists were imprisoned last year, according to Committee to Protect Journalists data. A recent example is the detention of Evan Gershkovich, a Wall Street Journal reporter who was arrested in Russia last month on espionage charges. The U.S. government declared him "wrongfully detained." Although it's widely known that autocratic regimes like Russia have strict censorship laws, press freedom experts say it's a threat in democratic countries too, due to the spread of misinformation online and political polarization.

Discuss: How does The Wall Street Journal article define "freedom of the press"? What are some press freedom threats journalists face in Russia and China? How are press freedoms challenged in democratic countries? How do the press freedoms in your country compare in global rankings with those in other countries?
Idea: Ask students to view and analyze the second chart in the story. Which countries imprisoned the highest number of journalists last year? Why is this significant? Why do some countries restrict press freedoms?
Resource: "Press Freedoms Around the World" (Checkology virtual classroom).
Related:

| | |
| --- | --- |
| | Dig deeper: Use this think sheet to take notes on press freedom challenges that journalists face around the world. |

Love RumorGuard? Receive timely updates by signing up for RG alerts here.
You can find this week's rumor examples to use with students in these slides.
Fabricated Trump Truth Social posts continue to fool people
NO: Former President Donald Trump did not post these messages on Truth Social insulting his former lawyer as a "cereal liar," saying the court reporter had "nice legs," or stating that he has taken the Fifth Amendment more times than anyone else. YES: These posts are digital fabrications. YES: The Twitter users who originally published these images later clarified that they were meant to be satirical.

NewsLit takeaway: Poe's Law states that anything published as satire online will eventually be mistaken as genuine. While both of these fabricated posts were intended as parody, they were quickly removed from this context and circulated as if they were screenshots of genuine posts. This tends to happen with just about any kind of satirical image but is especially common when an alleged screenshot from one social media network (in this case Truth Social) gets shared on another social media network, such as Twitter and Facebook. This is one of the reasons why images of social media posts — particularly those that are sensational, outrageous or absurd — that circulate unaccompanied by a live link to the post should always be viewed with skepticism.
Marjorie Taylor Greene tweeted a doctored pic of Lindsey Graham holding a Bud Light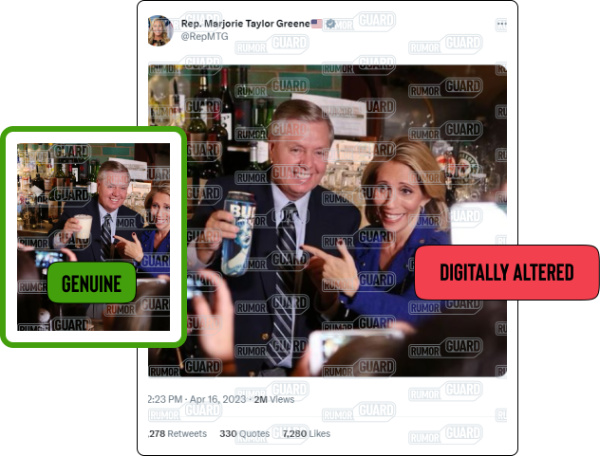 NO: Sen. Lindsey Graham, R-S.C., did not pose with a tall can of Bud Light with the likeness of transgender influencer Dylan Mulvaney on it. YES: This image was created by altering a photo of Graham holding a pint of draft beer before a CNN interview at a Boulder, Colorado, brewery in 2015. YES: Rep. Marjorie Taylor Greene, R-Ga., posted the doctored photo after Graham criticized her for defending Jack Teixeira, the Air National Guardsman suspected of leaking classified documents.

NewsLit takeaway: Videos and images that relate to controversial topics should be viewed with extra skepticism as these hot button topics often court falsehoods. When social media users came across this image of Graham in April, for example, it should have raised some red flags because it was circulating amid a conservative backlash against Bud Light for partnering with a transgender content creator. The image was a little "too perfect" and a quick reverse image search revealed that it had been altered.

| | |
| --- | --- |
| | One highly trusted news source: podcasts! The Pew Research Center found that about a third of all U.S. adults have heard news discussed on podcasts, and 87% of them expect podcasts to be accurate. |
| | Dominion Voting Systems v. Fox News Network — a major defamation case — concluded in a last-minute settlement on April 18 instead of going to trial, but there's a similar lawsuit from another voting technology company in motion over allegations that the network knowingly spread election misinformation. (And less than a week after the Dominion lawsuit concluded, Fox News announced the departure of host Tucker Carlson from the network.) |
| | After 11 years, the Pulitzer Prize-winning online publication BuzzFeed News has shut down due to financial issues. Founding editor Ben Smith described the closing as the "end of the marriage between social media and news." |
| | Local news in Cambridge, Massachusetts, is getting a boost from student journalists at The Harvard Crimson with the recent launch of a newsletter that covers off-campus topics for local residents. |
| | Several major state-affiliated Twitter accounts from Russia, China and Iran have seen a spike in followers and engagement over the last month after "visibility filtering rules" — guardrails that keep state media accounts from being amplified — were removed. Experts say the move could lead to more disinformation and propaganda on the platform. |
| | You may see fewer labels on major social media platforms. Twitter dropped "government-funded media" and "China-state affiliated" from media accounts — and also began removing, then restoring, some legacy blue check marks — while Meta phased out COVID-19 content labels on Facebook after an internal investigation found they were mostly ineffective at combating misinformation. |
| | Former Formula One race car driver Michael Schumacher never uttered the words recently printed in a German magazine — because the quotes were AI-generated. The magazine acknowledged the story "in no way meets the standards of journalism" and fired its longtime editor-in-chief as a result. |
Love The Sift? Please take a moment to forward it to your colleagues. They can also subscribe here.
Thanks for reading!
Your weekly issue of The Sift is created by Susan Minichiello (@susanmini), Dan Evon (@danieljevon), Peter Adams (@PeterD_Adams), Hannah Covington (@HannahCov) and Pamela Brunskill (@PamelaBrunskill). It is edited by Mary Kane (@marykkane) and Lourdes Venard (@lourdesvenard).

You'll find teachable moments from our previous issues in the archives. Send your suggestions and success stories to [email protected].

Sign up to receive NLP Connections (news about our work) or switch your subscription to the non-educator version of The Sift called Get Smart About News here.
Check out NLP's Checkology virtual classroom, where students learn how to navigate today's information landscape by developing news literacy skills.