The

Sift:

TikTok's

misinfo

problem

|

Midterms

prep

|

Food

conspiracy

rumor
An educator's guide to
the week in news literacy
Teach news literacy this week
TikTok's misinfo problem | Midterms prep | Food conspiracy rumor
Top picks
About one in five videos automatically suggested on TikTok contains misinformation, according to a new report from NewsGuard. Search results on pressing and consequential topics — including vaccines, abortion, climate change, school shootings, the 2020 election, the Jan. 6 insurrection and the war in Ukraine — are littered with misleading videos on the popular social media platform, NewsGuard researchers say. TikTok is one of the most popular domains in the world, especially among young people.

NewsGuard analyzed 540 TikTok search results, out of which they found 105 videos "contained false or misleading claims." They also found that when users entered neutral phrases, like "climate change," the platform suggested searches for false statements like "climate change doesn't exist."

Discuss: Do you use TikTok? If yes, what kind of videos do you watch on the platform? How often do you see TikTok videos about current issues and events? How can you tell whether a video is factual or not? Have you ever reported a video for misinformation on TikTok? Do you think strategies like user reports and AI technology are effective at filtering misinformation on social media?
Idea: In small groups, have students search a trending news topic on TikTok. Ask them to record the searches TikTok suggests as they type in their topic. Next, ask students to view the top five videos in their results and evaluate the credibility of each: Is the video factually accurate? Inaccurate? Are they unsure? Finally, have student groups discuss their observations and share ideas about how to verify TikTok content.
Resource: "Introduction to Algorithms" (NLP's Checkology® virtual classroom).
Related:

| | |
| --- | --- |
| | Dig Deeper: Use this think sheet to explore how TikTok's search results yield misleading information. |
It's been 130 years since a formerly enslaved man borrowed $200 to launch The Afro-American newspaper in Baltimore, Maryland. Commonly referred to as The Afro, the award-winning paper recently marked its anniversary and describes itself as a source of "good news about the Black community not otherwise found."

Idea: Have students examine the news coverage featured on afro.com. What kind of stories do they see? How might those stories be of interest to the news publication's audience? What distinguishes this outlet's coverage from more mainstream news sources?
Another idea: Ask students to use this map to explore media outlets across the United States that primarily serve Black communities.
Viral rumor rundown
Climate change denialism spread via fake CNN headline
NO: The screenshot in this tweet is not a genuine article published by CNN. YES: This is a piece of impostor content designed to look like a CNN article. NO: Climate and weather are not the same thing. YES: Global warming and climate change can cause severe winter weather.

NewsLit takeaway: Impostor content is often designed to launder faulty ideas through a credible source. Using a fabricated CNN headline to push this falsehood accomplishes two things: It lends credibility to a demonstrably false claim for those who are inclined to believe it, and it impugns CNN's reputation and credibility for those who aren't.

Remember: While weather changes from one season to the next, the impacts of climate change can be felt throughout the year. Conflating weather with climate is a common strategy used to minimize the magnitude of climate change. Recognizing this distinction makes us all less susceptible to climate change misinformation.
No, Trump didn't say he was knighted in private by Queen Elizabeth II
NO: This is not a genuine message from Trump about being knighted in private by the queen. NO: This message was never posted to Trump's account on Truth Social, the former president's social media platform. YES: This is a fabricated Truth Social post that went viral on Twitter.

NewsLit takeaway: Be skeptical of alleged social media messages that only circulate in image form as screenshots. A plethora of online tools make fabricating images of social media messages rather easy. While these doctored pieces of impostor content can appear convincing, one big red flag gives these messages away as fakes: They do not have URLs connected to the social media profile of the subject (in this case, Trump) and many of these alleged posts have the same number of likes and shares.

We've covered similar pieces of impostor content and you can get a rundown on how to investigate this type of rumor here.
No, the viral 2030 diet infographic didn't come from the World Economic Forum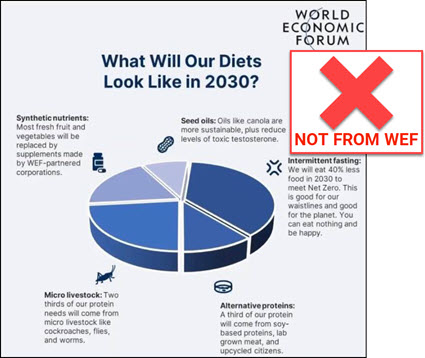 NO: This infographic was not created or promoted by the World Economic Forum. YES: A spokesperson for WEF told fact-checkers at the Associated Press that "this is fake and completely made up."

NewsLit takeaway: Satirical content online is often mistaken as genuine — and in some cases, can ignite harmful conspiracy theories. Fact-checkers from USA Today found that this bogus infographic was likely created with humorous intent as it contained unreasonable and obviously false assertions, but it also connects to long-standing conspiratorial ideas about a "global agenda" to deliberately create food shortages. This ignited its spread among conspiracy theory communities. Misinformation often contains a grain of truth, and in this instance an opinion piece on WEF's website truly suggested diets could change as the global population grows and the farming industry shifts to more sustainable methods. The infographic exaggerated these points (artificial meat became "upcycled citizens" and the possible addition of insects became "micro livestock"). Then it was further amplified by those who credulously shared it online. These dots — an opinion piece on a potential change in global diets and a claim that global organizations will force people to eat "upcycled citizens" — do not connect.
You can find this week's rumor examples to use with students in these slides.

| | |
| --- | --- |
| | Years after the Women's March movement began, research by a nonpartisan nonprofit revealed how Russian trolls online contributed to fracturing the feminist movement and deepening rifts in American politics. |
| | "Racism is disinformation." This Mother Jones piece examines how bots impersonating Black people to sow political division on social media can lead to the dismissal and silencing of real Black people online. |
| | A federal appeals court upheld a controversial Texas law that could upend the way social media platforms moderate content, making it possible to sue the platforms for removing political posts. |
| | Most Americans agree that journalism is critical to democracy, but many do not feel represented in the news, according to a new poll conducted by The 19th* and SurveyMonkey. |
| | A new Reuters Institute study found that some young people avoid "serious news" — often to protect their mental health — and their media picks are usually a matter of personal taste. |
| | As student journalists have become more vocal about the threats and intimidation they face, new research underscores the importance of preparing journalism students to cope with on-the-job harassment. |
| | This is the first school year that media literacy is required in Illinois high schools, and it can be taught in any subject — even PE class. |
Thanks for reading!
Your weekly issue of The Sift is created by Susan Minichiello (@susanmini), Dan Evon (@danieljevon), Peter Adams (@PeterD_Adams), Hannah Covington (@HannahCov) and Pamela Brunskill (@PamelaBrunskill). It is edited by Mary Kane (@marykkane) and Lourdes Venard (@lourdesvenard).

You'll find teachable moments from our previous issues in the archives. Send your suggestions and success stories to [email protected].

Sign up to receive NLP Connections (news about our work) or switch your subscription to the non-educator version of The Sift called Get Smart About News here.
Check out NLP's Checkology virtual classroom, where students learn how to navigate today's information landscape by developing news literacy skills.