The

Sift:

News

Goggles:

Photojournalism

ethics

|

Pause

on

AI?

|

Russia

detains

American

reporter
An educator's guide to
the week in news literacy
Teach news literacy this week
News Goggles: Photojournalism ethics | Pause on AI? | Russia detains reporter

Photos and videos are a crucial form of reporting and storytelling in journalism. They can add context, hold the powerful accountable and offer a window into people's lived experiences.

This week, we talk to Kent Porter about his work as a photojournalist at the Santa Rosa Press Democrat in Northern California. We examine the role of ethics in visual journalism, including the steps photojournalists take to document stories accurately and fairly. Porter explains how he has earned the trust of his community after covering the area for more than three decades. He also shares his perspective on the rise of artificial intelligence to generate images and underscores why photojournalism remains important in the digital age. Grab your news goggles!

Note: Look for this newsletter feature the first Monday of the month. You can explore previous News Goggles videos, annotations and activities in NLP's Resource Library under "Classroom Activities."

Resource: "Practicing Quality Journalism" (NLP's Checkology® virtual classroom).

Idea: Contact a local visual journalist and ask them to discuss the role of standards and ethics in their daily work.

Another Idea: Examine a recent news story that includes photos or videos from a visual journalist. How do these visuals impact the news coverage? How do they contribute to your understanding of the topic? What would your experience with news be like if there were no photos or videos?
| | |
| --- | --- |
| | Dig deeper: Use this viewing guide for the featured News Goggles video to help students take notes on what it means to be a photojournalist. |
Top picks
As generative AI tools rapidly become more sophisticated and popular, some tech leaders and researchers are calling for a six-month pause in developing the technology's "most advanced systems." In an open letter, they cited concerns about the spread of misinformation and the need for "shared safety protocols."

NPR correspondent Shannon Bond, who covers misleading narratives and false claims, also noted that as AI technology improves it could potentially affect the 2024 election by providing quick tools to create "more realistic fake content." Experts say tools are needed to combat AI-generated misinformation ahead of the election.

This AFP Fact Check entry provides tips for identifying AI-generated images, including using reverse image search and looking for clues like watermarks used by some AI tools and visual inconsistencies, such as disproportioned hands.

| | |
| --- | --- |
| | Share your thoughts! If you're interested in continuing this conversation about AI or other related topics, head over to the NewsLitNation Facebook group for discussion threads with fellow educators and news literacy experts. |
As Congress considers banning TikTok, experts warn that doing so would still leave most data privacy concerns unaddressed. There are more than 150 million TikTok users in the United States, and the ban is being considered due to national security concerns — specifically, Chinese law requires Chinese companies to cooperate with Chinese intelligence, which TikTok CEO Shou Zi Chew testified to Congress they wouldn't do. Meanwhile, at least 168 news outlets based in the U.S. have a presence on TikTok, and some with sizable followings say that pulling the plug on TikTok could mean reaching fewer people.

Discuss: Is TikTok a viable platform for publishing or broadcasting news? Should news organizations focus on it as a major avenue to reach the public? How might delivering news over TikTok change the nature of the coverage? How would a possible TikTok ban affect you?
Related: "TikTok's Russia Challenge: Kremlin-Funded Media Reaches Millions on the App" (Joseph Bodnar, Alliance for Securing Democracy).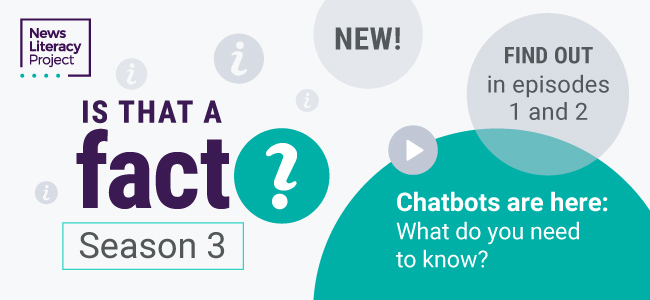 Love RumorGuard? Receive timely updates by signing up for RG alerts here.
You can find this week's rumor examples to use with students in these slides.
Pic of pope in puffy jacket produced by AI fools many online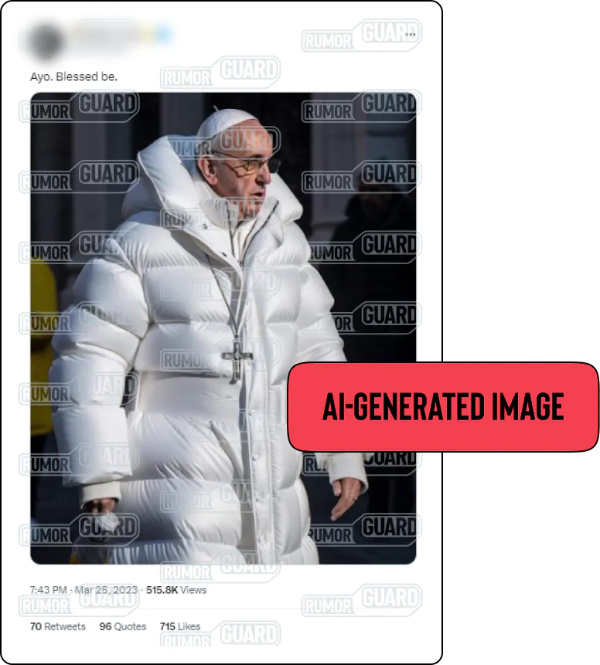 NO: This is not an authentic photo of Pope Francis wearing a full-length white puffer jacket. YES: This image was created with the artificial intelligence text-to-image generator Midjourney and originally posted to Reddit.

NewsLit takeaway: The tech might be new, but old detection methods still serve us well.

While AI image generators still have a difficult time rendering fingers, these tools are rapidly advancing and are likely to soon perfect even these details. This makes tracing images back to their source — via reverse image searches and lateral reading — an important habit and a best defense against being fooled by these convincing fabrications.

Related: "Opinion | What the pope's Balenciaga puffer jacket says about AI and misinformation" (Alex Mahadevan, Poynter).
No, Sen. Cruz doesn't tweet the exact same message after mass shootings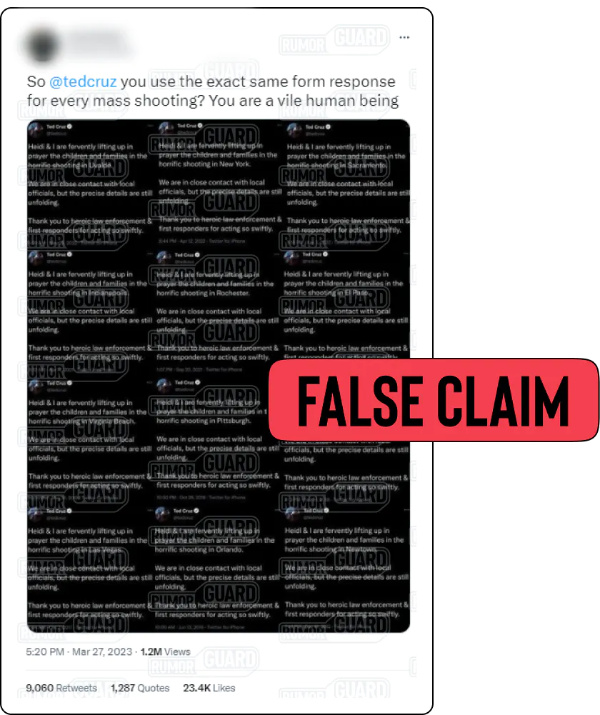 YES: After a gunman killed 19 children and two teachers at Robb Elementary School in Uvalde, Texas, in May 2022, Texas Republican Sen. Ted Cruz tweeted: "Heidi & I are fervently lifting up in prayer the children and families in the horrific shooting in Uvalde. We are in close contact with local officials, but the precise details are still unfolding. Thank you to heroic law enforcement & first responders for acting so swiftly." NO: Cruz did not repost this exact message with an updated location after 11 other mass shootings.

NewsLit takeaway: Outrageous or provocative social media posts that only circulate as alleged screenshots should always be viewed with skepticism. Fake tweets that look convincing make it quite simple for trolls, partisans and other bad actors to put words into someone's mouth.

All the tweets in this meme, aside from one, are digital fabrications. While Cruz has publicly offered his prayers after a number of mass shootings, the use of Twitter's advanced search feature reveals that Cruz has not posted the same verbatim message over and over again.


| | |
| --- | --- |
| | Zines may have been for punk rock and poetry in the '90s, but in 2023 they're for media literacy! Poynter's MediaWise has released reality check, a zine that fights misinformation and shares fact-checking tips. |
| | A newspaper without reporters is like a ship without sailors, but since December a 152-year-old California paper — in novelist John Steinbeck's hometown of Salinas, no less — is floating with no reporters left. |
| | Everyone makes mistakes, and publicly admitting to reporting errors is what journalists at standards-based news organizations do to be transparent, accurate and accountable. A recent study, however, found that corrections actually reduce people's trust in the press — at least in the short term. |
| | Russian authorities detained an American journalist for the first time since the end of the Cold War. Wall Street Journal reporter Evan Gershkovich, 31, was arrested March 29 on espionage charges — an accusation both Gershkovich and the Journal deny and that Russia has not provided evidence to support. |
| | Despite unfounded hyperpartisan claims of a "clear epidemic" of transgender mass shooters, data shows that people who identify as transgender, in fact, don't commit "mass murder at a rate higher than their percentage of the population," The Washington Post's Fact Checker reports. |
| | Google update alert! The search engine is adding new features to help users verify information and provide more context, including Perspectives (which provides insights from journalists and experts on a given topic) and About the Author (to learn about the people producing news stories). |
Love The Sift? Please take a moment to forward it to your colleagues. They can also subscribe here.
Thanks for reading!
Your weekly issue of The Sift is created by Susan Minichiello (@susanmini), Dan Evon (@danieljevon), Peter Adams (@PeterD_Adams), Hannah Covington (@HannahCov) and Pamela Brunskill (@PamelaBrunskill). It is edited by Mary Kane (@marykkane) and Lourdes Venard (@lourdesvenard).

You'll find teachable moments from our previous issues in the archives. Send your suggestions and success stories to [email protected].

Sign up to receive NLP Connections (news about our work) or switch your subscription to the non-educator version of The Sift called Get Smart About News here.
Check out NLP's Checkology virtual classroom, where students learn how to navigate today's information landscape by developing news literacy skills.