The

Sift:

Northwestern

journalism

blowback

|

Impeachment

echo

chambers

|

Russian

'active

measures'
An educator's guide to
the week in news literacy

| | | |
| --- | --- | --- |
| By | | |
Northwestern apology firestorm
Student journalists at The Daily Northwestern — the student-run news organization at Northwestern University — sparked intense national debate and criticism among professional journalists and others last week after they apologized in a Nov. 10 column for a series of actions taken by staff members while covering protests of a campus speech five days earlier by former Attorney General Jeff Sessions. After protesters said that they considered photos posted on Twitter by The Daily's photographer, Colin Boyle, and other staff to be retraumatizing and invasive (including one of a student knocked down by police), those photos were deleted. In a statement he posted the night of the protest, Boyle acknowledged that he "failed to get consent on making these images as the tense moments were going on," while noting that he was "doing my best as a photojournalist to document what was happening so that people were aware of what students were going through while Jeff Sessions was on campus" — in essence, standard journalism practice for covering a protest.

Other students were concerned that the Daily staff had used the university directory to find their cellphone numbers and then texted them, asking if they would be willing to be interviewed. In their apology, the student journalists said they recognized this as "an invasion of privacy" — even though journalists regularly use directories for such purposes. In addition, the Daily staff revised its article to remove the name of a protester who was quoted so that the student would be protected from disciplinary action by the university.

"While our goal is to document history and spread information, nothing is more important than ensuring that our fellow students feel safe — and in situations like this, that they are benefitting from our coverage rather than being actively harmed by it," eight editors, led by editor in chief Troy Closson, wrote in their Nov. 10 column. "We failed to do that last week, and we could not be more sorry."

A day later, in response to "the concerns that everyone has shared on Twitter," Closson said in a tweet thread that "we covered the protest to its full extent and stand by our reporting" and that the editors' statement "over-corrected" in some ways. He said that it has been challenging to balance his position as editor in chief with both his racial identity — he is only the third Black editor in chief in The Daily's history — and the knowledge that the publication has previously failed students of color.

He continued:

Outraged critics, including working journalists and Medill alumni, said the student journalists had nothing to apologize for ( except for their apology) because they were simply practicing journalism.

The Daily operates independently from Northwestern University's Medill School of Journalism, Media, Integrated Marketing Communications, one of the most prestigious journalism schools in the country. The newspaper serves both the university community and the town (Evanston, Illinois) in which the school is located.

Medill's dean, Charles Whitaker, weighed in with a statement on Nov. 12: "As the dean of Medill, where many of these young journalists are trained," he wrote, "I am deeply troubled by the vicious bullying and badgering that the students responsible for that coverage have endured for the 'sin' of doing journalism."

He called the apology "a heartfelt, though not well-considered editorial," and urged the Medill alumni and other journalists who had condemned it to back off. The student journalists, he said, "were beat into submission by the vitriol and relentless public shaming" and faced "the brutal onslaught of venom and hostility that has been directed their way on weaponized social media."

"I say, give the young people a break," he wrote. "What they need at this moment is our support and the encouragement to stay the course."
Related:
Discuss: Do you think the Northwestern student journalists should have apologized for the way they covered the student protests? Do you agree with their response to criticism from their peers? If you don't, how do you think they should have responded instead? Were they right to take down photos and remove a protester's name from an article to protect the student from potential discipline? Were they wrong to contact students using the university directory to ask if they would be willing to be interviewed? Do you think it is insensitive for a news outlet to publish photos of protesters being knocked down by police, or do you think that is an important image for the public to see? What role has photojournalism played historically in exposing violence and other forms of injustice?
Idea: Have students read and review the standards in the Society of Professional Journalists' Code of Ethics, which was mentioned in the apology. Then ask students to identify which parts of the code were relevant in the Northwestern case.
Another idea: Have students compare and contrast the Northwestern case with the recent backlash against The Harvard Crimson. Ask students which was the better response, and why. Then discuss how the Harvard student journalists might have responded to the criticism received at Northwestern and how the Northwestern student journalists might have responded to the criticism received at Harvard.
Viral rumor rundown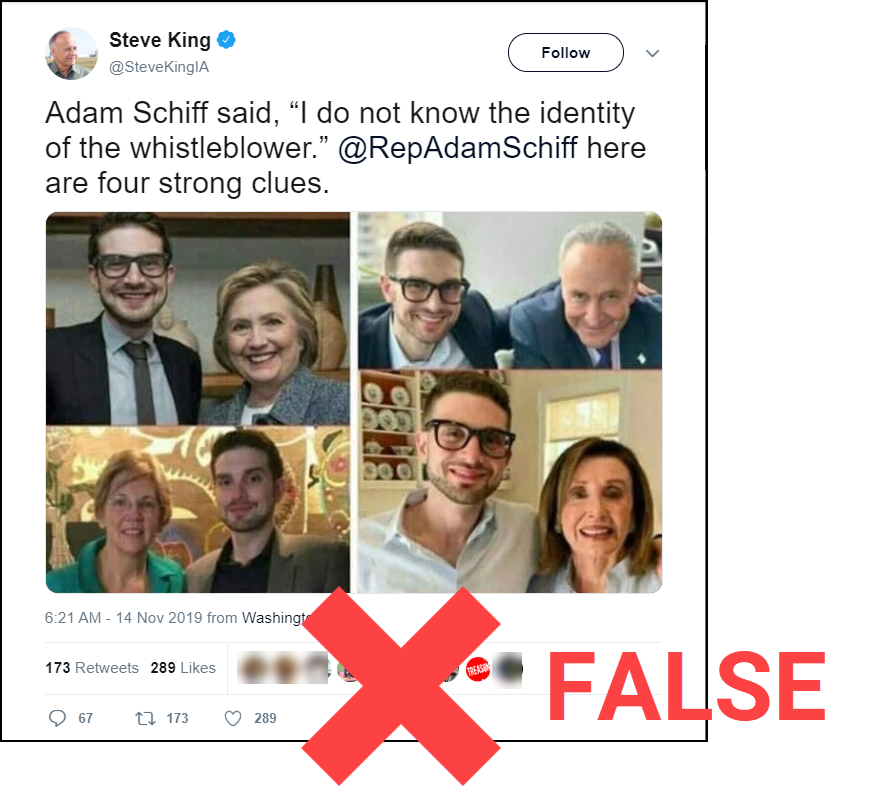 Click the image to view a larger version.
NO: The man in each of the photos in this Nov. 14 tweet from Rep. Steve King, an Iowa Republican, is not the anonymous whistleblower whose complaint about President Donald Trump's interactions with the president of Ukraine resulted in the current impeachment inquiry by the House Intelligence Committee. YES: He is Alexander Soros, the son of billionaire George Soros, the founder and chair of the Open Society Foundations and a well-known philanthropist and Democratic fundraiser. NO: Alexander Soros has never worked for the U.S. government.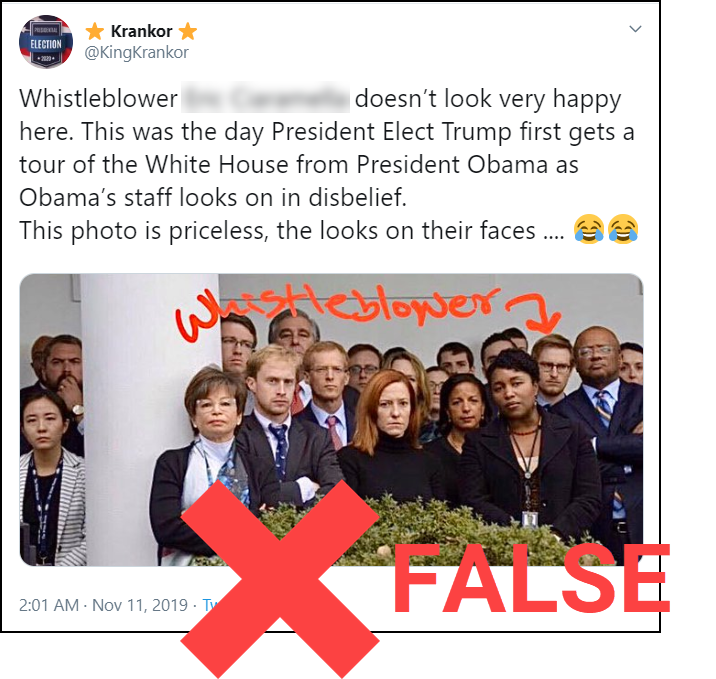 NO: The man identified as the whistleblower in this tweet is also not the whistleblower. YES: He is R. David Edelman, who spent six years in the Obama White House, first as director of international cyber policy at the National Security Council and then as special assistant to the president for economic and technology policy. He left the White House and joined the Massachusetts Institute of Technology in January 2017, more than two years before the whistleblower's complaint was filed.
Note: A variation of the false whistleblower rumor that circulated in early November included three photos of Alexander Soros and one of Edelman: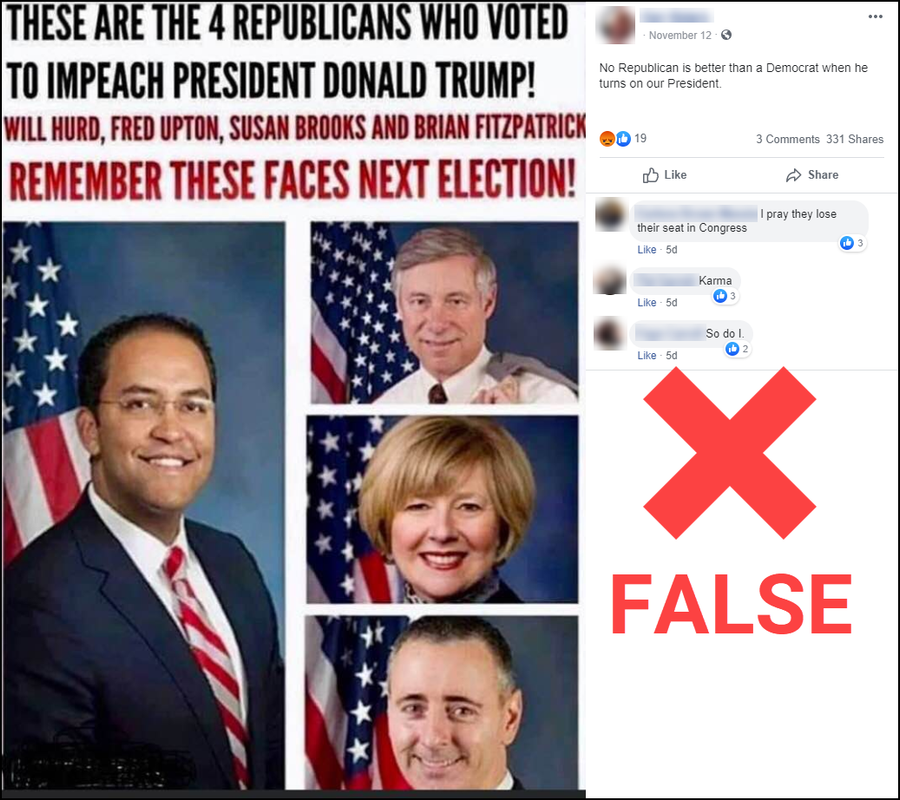 NO: These four Republican members of the House of Representatives — Will Hurd of Texas, Fred Upton of Michigan, Susan Brooks of Indiana and Brian Fitzpatrick of Pennsylvania — did not vote to impeach President Trump. NO: The House has not yet voted on articles of impeachment. YES: The House voted on Oct. 31 to authorize a formal impeachment inquiry. NO: No Republicans voted in support of the inquiry. YES: On July 16, Hurd, Upton, Brooks and Fitzpatrick were the only Republicans who voted for a resolution condemning President Trump's "racist comments" in three July 14 tweets in which he told four House Democrats — Ilhan Omar of Minnesota, Alexandria Ocasio-Cortez of New York, Rashida Tlaib of Michigan and Ayanna Pressley of Massachusetts, all women of color — to "go back and help fix the totally broken and crime infested places from which they came." NO: Three of those women were born in the United States.
NO: Rep. Elise Stefanik, a New York Republican who serves on the House Intelligence Committee, did not give the middle finger to a camera at the end of the impeachment inquiry hearing on Nov. 15. YES: The photo on the left has been doctored. Stefanik's hand was not visible in the original image (right). YES: Stefanik wears her wedding ring on her left hand (photo from the Nov. 15 hearing by Reuters' Joshua Roberts):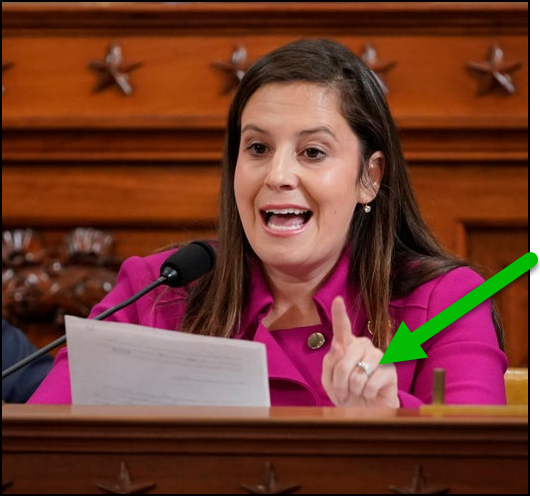 NO: NBA star Stephen Curry didn't cancel his endorsement deal with Nike because the company wouldn't allow him to write a Bible verse on his shoes. YES: Curry switched his shoe endorsement in 2013 after Nike failed to match an offer from Under Armour. YES: Curry's father, Dell, said that there were issues with Nike's approach, including a company official who mispronounced his son's first name and a presentation that included a slide, apparently repurposed (and not updated), featuring Kevin Durant's name. NO: The "Seth Curry" who commented on this Facebook post is not Stephen Curry's younger brother, Seth (who also plays in the NBA).
Five to teach
Americans who turned to the two most partisan cable news channels on Nov. 13 for commentary about the first day of the House Intelligence Committee's impeachment hearings got distinctly different takes on the day's events, according to Michael M. Grynbaum, a media reporter at The New York Times. Depending on which network you watched — Fox News or MSNBC — the public testimony was "pointless and tiresome" (Tucker Carlson, Fox News) or evidence of "the corrupt abuse of power by the president" (Chris Hayes, MSNBC).

Note: Fox News and MSNBC topped the Nielsen ratings for the live broadcast of the testimony by William Taylor, the acting U.S. ambassador to Ukraine, and George Kent, deputy assistant secretary of state for European and Eurasian affairs.
Also note: The Times article also points out that coverage of President Andrew Jackson's impeachment in 1868 was highly partisan, though openly partisan news coverage was also the norm at the time.
Discuss: What role does opinion journalism play in our democracy? Are people more drawn to opinion journalism than they are to straight news reporting? Should people go out of their way to watch, listen to or read opinion journalism that runs counter to their beliefs? Why or why not? Are the sharp differences between the opinions broadcast on Fox News and MSNBC a problem, or are they evidence of a robust national conversation?
Journalists in several countries were attacked last week, according to the Committee to Protect Journalists and news reports. On Nov. 15, while covering a protest against Israel's settlement activity in the West Bank town of Surif, Palestinian photographer Moath Amarneh was struck in his left eye by shrapnel from a rubber-coated bullet fired by an Israeli soldier. At a protest in Abuja, Nigeria, on Nov. 12, security forces shot at journalists and beat at least one reporter, and journalists' equipment was seized. In Turkey, a handful of journalists were detained in the northern province of Giresun on Nov. 13 and the western city of Izmir on Nov. 12; in Istanbul, a judge ruled on Nov. 12 that novelist and journalist Ahmet Altan, who had been released from prison earlier this month, should be returned to custody — so he was arrested again. In addition, journalists in Bolivia are increasingly targets of attacks, harassment and censorship by the government and by citizens.

Idea: Have students explore the Committee to Protect Journalists and U.S. Press Freedom Tracker websites to learn about violence against journalists globally and press freedom incidents in the United States.
Discuss: How do the press freedom incidents in the U.S. compare with those in the rest of the world? Why are journalists a target for imprisonment and violence? In which countries have the most journalists been jailed in recent years? In which countries have the most journalists disappeared? In which countries have the greatest number of journalists been killed?
Related: "Press Freedoms Around the World" in NLP's Checkology® virtual classroom (student license purchase required)
A county board of supervisors in southwestern Wisconsin scrapped a proposed resolution calling for journalists to be punished unless they printed — in full, without editing it, changing it, selecting specific information from it or interpreting it — a press release about a forthcoming study of contaminated wells. "Violators," the proposed resolution warned, "will be prosecuted." In addition, the proposal threatened to punish board members and other officials who were "caught distorting information intentionally, or speaking to the press without the express authority of their Committee, Full County Board or the Review Board."

After an initial report about the proposal to punish journalists resulted in a national outcry, the committee that prepared the resolution revised it on Nov. 12 to remove that threat — but it kept the warning to board members. Then, in a session that evening, the Lafayette County Board of Supervisors adopted an amendment to the resolution that would give board members permission to speak on their own while noting that any official statement about the study would come only from the county. (The board then delayed further action.)

The initial resolution grew out of some officials' views that coverage of an earlier study on contaminated wells had been slanderous, misinterpreted and simplified. Critics said the proposal violated the First Amendment.

Note: Press releases do not, by themselves, constitute reporting. Journalists often use information in press releases — after verifying it — along with information from other sources. But a responsible news outlet should never allow a press release to be presented as a news report.
Discuss: Does a governmental body have the right to control what news outlets publish or limit what public officials say? Are journalists who simply republish press releases doing any reporting? If this resolution were passed and enforced, how would it impact press freedoms? Should the officials' mere attempt to pass such a resolution factor into press freedom rankings of the United States?
Idea: Ask a local journalist to visit your classroom, either in person or virtually, to talk about press releases. What are they? How many do they receive in an average week? How do they typically use a press release in their work, and how much copy from a press release do they use, on average, in their reports? Have they ever received a press release that contained misleading or untrue statements? What dangers would a resolution like the one proposed in Lafayette County present for the public?
Two organizations were responsible for 54% of anti-vaccination ads on Facebook before the platform changed its advertising policies in early March, according to a new study in the journal Vaccine. The study's findings also supported reports that Facebook has blocked ads with accurate pro-vaccination information, forcing the organizations that sponsor those ads to appeal or re-engineer them. Researchers at Johns Hopkins University, George Washington University and the University of Maryland analyzed vaccine-related ads placed on Facebook between December 2018 and February 2019. They found that Stop Mandatory Vaccination, run by anti-vaccine activist Larry Cook, and the World Mercury Project (which also uses the name "Children's Health Defense"), led by Robert F. Kennedy Jr., were responsible for more than half of the anti-vaccination ads during that period.

Note: Anti-vaccination ads designed not to violate the letter of Facebook's new policies continued to run after the policies were changed.
Also note: After a parent in the United Kingdom complained about one of the Facebook ads from Stop Mandatory Vaccination, Cook was censured by the Advertising Standards Authority (the U.K.'s independent regulatory body for advertising) in November 2018. He acknowledged using Facebook's data profiling tools to target new parents.
Discuss: Should it be illegal to spread medical misinformation? Is disseminating medical misinformation in the U.S. protected by the First Amendment? Does the First Amendment give people the right to publish whatever they want on Facebook and other social media platforms? Does Facebook's Ad Library contain information that can help people better understand how they might be targeted by misinformation on the platform?
Idea: Use Facebook's Ad Library to explore vaccine-related ads with students. Analyze which groups are spending money to advertise about this issue, and whom they appear to target.
Another idea: As a follow-up to the previous activity, have students critique the Ad Library's features. Do they make it easy to investigate ads that have been placed on Facebook? Is there any information the Ad Library doesn't contain that would be helpful? (Note: It might be helpful to compare the data that Facebook collects — and that can be used by those purchasing targeted ads — with what is available and searchable in the Ad Library.)
Russia took a multi-pronged approach to spreading disinformation prior to the 2016 U.S. presidential election, researchers Renee DiResta and Shelby Grossman write in a white paper published last week by the Stanford Internet Observatory. Their report was based in part on a dataset of posts initially provided to the Senate Select Committee on Intelligence by Facebook, showing how the GRU, Russia's military intelligence agency, exploited the world's largest social media platform. The researchers found that the Russians used well-established propaganda tactics — known as "active measures" — alongside newer methods for spreading disinformation on social media. Two established methods highlighted were "narrative laundering" — legitimizing disinformation by first placing it in obscure or alternative publications, then amplifying that coverage in progressively larger and more mainstream outlets — and "hack-and-leak operations," such as the release of emails stolen from the Democratic National Committee. Both tactics involve the use of fake online personas. "Narrative laundering" used fabricated think tanks and experts to disguise Russian propaganda, while "hack-and-leak operations" used online personas (such as the hacker Guccifer 2.0) and counterfeit websites (such as DCLeaks) to release emails from U.S. political figures.

Related: "Here's how Russia will attack the 2020 election. We're still not ready." (Renee DiResta, Michael McFaul and Alex Stamos, The Washington Post)
Discuss: What kinds of topics did Russian disinformation agents post about in the weeks and months before the 2016 presidential election? How can we watch out for possible influence operations by Russia and other foreign governments in advance of the 2020 election? What steps have social media platforms taken to combat foreign disinformation? What can news outlets do to help the public understand and identify this threat? What can you do to help people you know become aware of these tactics?
Related: "Maligned in black and white" (Mark I. Pinsky, Poynter)
What else did we find this week? Here's our list.
Thanks for reading!
Your weekly issue of The Sift is put together by Peter Adams (@PeterD_Adams) and Suzannah Gonzales of the News Literacy Project.
You'll find teachable moments from our previous issues in the archives. Send your suggestions and success stories to

[email protected]

.
Sign up to receive NLP Connections (news about our work) and Get Smart About News (news literacy tips).
Check out NLP's Checkology virtual classroom, where students learn how to navigate today's information landscape by developing news literacy skills.