The

Sift:

Times

op-ed

backlash

|

Iran

falsehoods

|

Misleading

Biden

clip
An educator's guide to
the week in news literacy

| | | |
| --- | --- | --- |
| By | | |
New York Times op-ed backlash
A Dec. 27 opinion column by Bret Stephens in The New York Times headlined "The Secrets of Jewish Genius" drew a wave of criticism last week.

In his original column, Stephens lauded the intelligence of Ashkenazi Jews, citing a 2005 paper that was published in the Journal of Biosocial Science, which, until 1969 was named The Eugenics Review. The article was co-authored by Henry Harpending, whom the Southern Poverty Law Center labeled an "extremist" with "white nationalist" ideology.

On Dec. 29, the Times said on Twitter that the column had "been edited to remove a reference to a paper widely disputed as advancing a racist hypothesis," and an editors' note had been added.

"After publication Mr. Stephens and his editors learned that one of the paper's authors, who died in 2016, promoted racist views. Mr. Stephens was not endorsing the study or its authors' views, but it was a mistake to cite it uncritically. The effect was to leave an impression with many readers that Mr. Stephens was arguing that Jews are genetically superior. That was not his intent," the editors' note said, adding that reference to the study was removed from the column.

However, Jack Shafer, of Politico argued that Jewish genetic superiority was exactly what Stephens was claiming, based on the sections removed from the original column. "If you're going to edit a piece, the smart move is to edit before it publishes," Shafer wrote.

James Bennet, Times' editorial page editor, said Stephens' column was edited and fact-checked before it was published, according to a report by Michael Calderone, also of Politico. Bennet did not address how references to the research paper made it through the editing process. The editors' note also did not explain why all mentions of "Ashkenazi" Jews were removed from the revised piece, Calderone noted. Stephens has not commented.

This is not the first time the winner of the 2013 Pulitzer Prize for commentary while at The Wall Street Journal has sparked controversy since joining the Times in 2017. In August, he took issue with a critical tweet by a George Washington University associate professor – which jokingly referred to Stephens as a bedbug – and responded by email to the professor and copied his provost. In addition, his first column in April 2017 raised questions about scientific evidence to support climate change that prompted Arthur O. Sulzberger Jr., chairman of the board for The New York Times Company and publisher of the Times in 2017, to send an email appealing to readers who indicated that the hiring of Stephens led them to cancel their subscriptions.
Viral rumor rundown
NO: Democrats did not call for "flags to be flown at half-mast to grieve the death" of the Iranian military leader, Qassem Soleimani. YES: The Babylon Bee, a Christian conservative satire website, published a story making this claim, which was then widely shared and mistaken for a factual news story by many on social media.
Note: Satirical stories are not only commonly mistaken for actual news, their central claims also tend to circulate out of context: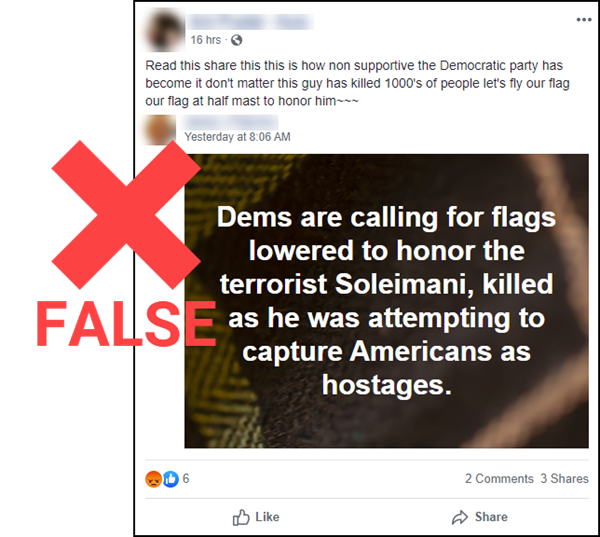 Also note: Only flags flown in the middle of the flagpole on ships and at naval bases are said to fly at "half-mast." All others are flown at "half-staff."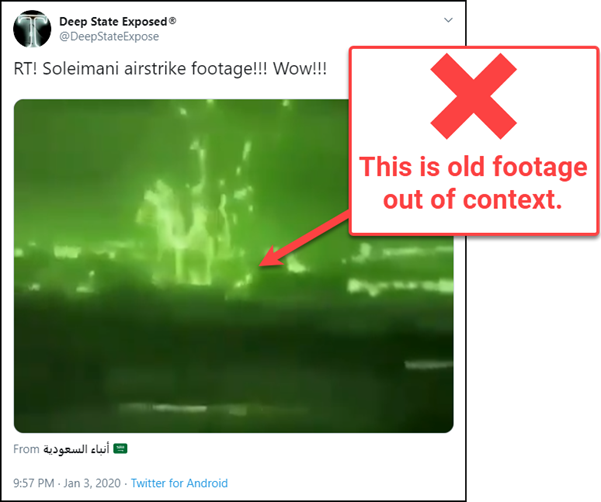 NO: This is not footage of the airstrike that killed Qassem Soleimani in Iraq. YES: This footage was uploaded to a video sharing site in June 2017, making it at least two-and-a-half years old.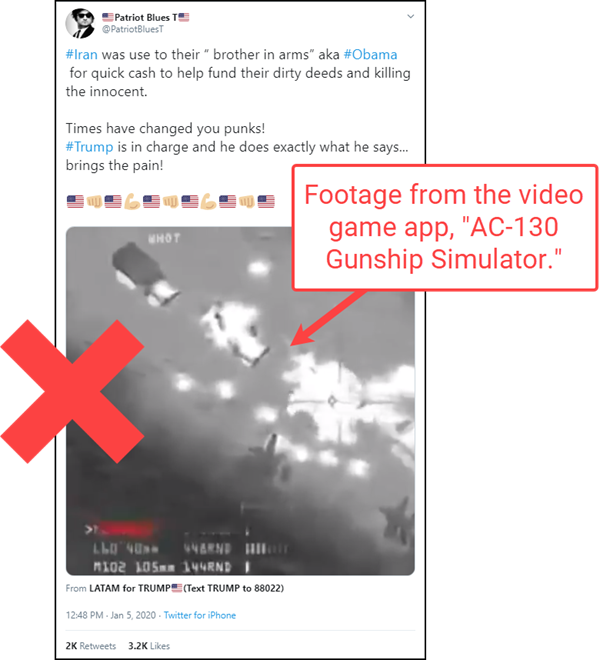 NO: This video footage does not show U.S. military strikes against Iran. YES: It is computer-generated footage from a mobile app video game called "AC-130 Gunship Simulator: Special Ops Squadron."
NO: U.S. Rep. Ilhan Omar, a Minnesota Democrat, did not say in a tweet that she is "ashamed…to be called an 'American'" and that "the time for violence is now" after the U.S. military targeted and killed Qassem Soleimani. YES: Omar tweeted a strongly worded message opposing war with Iran. YES: A Twitter account posing as Fox News posted a doctored version of that tweet: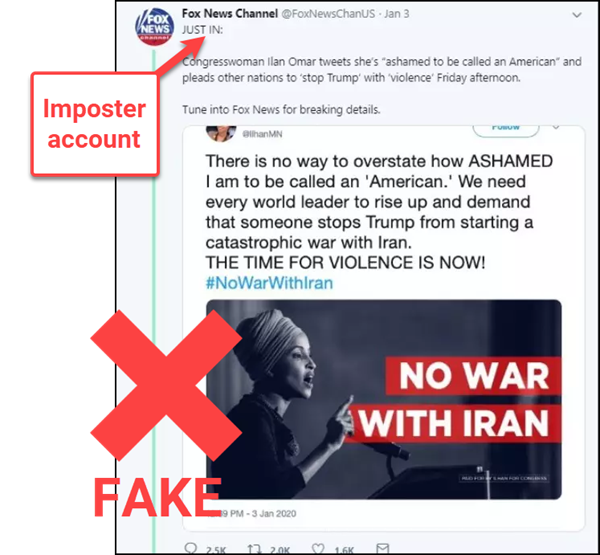 Note: Social media posts are extremely easy to manipulate and typically circulate as images (screenshots) along with the claim that the post has since been deleted. When you see a divisive or outrageous post, especially from a public official, be sure to check whether it is authentic.
Also note: Politwoops, a website run by ProPublica —an independent, nonprofit news organization — tracks and archives public officials' deleted tweets. If you see a screenshot of a controversial tweet from a politician, take a moment to check the Politwoops archive.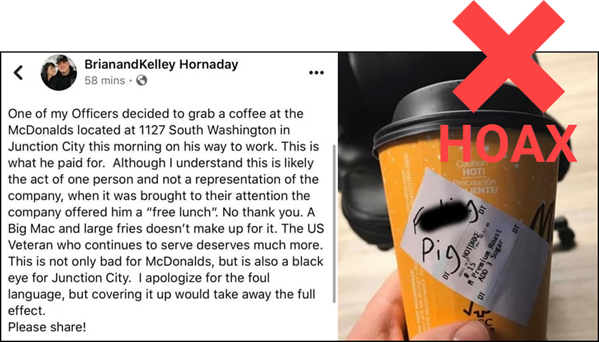 NO: A McDonald's employee in Junction City, Kansas, did not write "f*cking pig" on a police officer's coffee cup. YES: A 23-year-old officer with the Herington Police Department would later say he wrote the expletive on his own coffee cup as a "joke." YES: The department's police chief believed the officer's initial claim that a McDonald's employee was responsible for the slur and posted about the incident on Facebook, drawing national attention and news coverage." YES: The officer resigned on Dec. 30 after McDonald's reviewed video footage of the order being served, which showed that no restaurant employee wrote on the officer's cup.
Five to teach
A deceptively edited video clip of former Vice President Joe Biden at a presidential campaign event went viral last week. The 19-second clip takes the Democratic presidential candidate out of context to make it appear as though he characterized the origins of American culture in racist terms. In actuality, he was describing the "English jurisprudential" cultural influence on contemporary American attitudes about domestic violence.

The clip originated from a thread of posts on Twitter published by @mooncult, an account that describes itself as "an exclusive 'weird twitter' comedy collective operated by an anonymous rotating cast." That clip was re-shared to Twitter by several influential accounts, including the official account of the conservative news and opinion website The Daily Caller. And that post was then re-shared to Twitter by the conservative TV host Graham Ledger who, in turn, was retweeted by President Donald Trump.

Note: This viral incident serves as a good reminder of the power of "cheap fakes" – simple manipulations, such as deceptive edits and false context — to spread political misinformation online.
Related: "A deceptively edited video of Joe Biden signals what's coming" (Greg Sargent, The Washington Post)
Discuss: How can people avoid falling for photos, videos and quotes presented out of context or in false contexts? What role do our emotions play when we encounter such pieces of misinformation?
Journalists, legal experts and political leaders are debating whether to describe the killing of Qassem Soleimani as an "assassination." John Daniszewski, vice president and editor at large for standards at The Associated Press, explored the question in a Jan. 3 column. He cited the AP Stylebook — the widely used guide for the news industry — which defines assassination as "the murder of a politically important or prominent individual by surprise attack," as well as two experts in international law. One expert considers Soleimani's killing a clear example of assassination, while the other says international criminal law is unclear about the question. In the end, news outlets would likely follow the consensus of the international legal community. But without access to whatever evidence U.S. intelligence agencies may or may not have regarding planned attacks against Americans., such a consensus is unlikely. In the meantime, Daniszewski indicated that the AP will continue to refrain from using the term, "both because it would require that the news service decide that the act was a murder, and because the term is politically freighted."

Related:
Discuss: Do you think news outlets should describe the killing of Soleimani as an "assassination"? A "murder"? Why or why not?
Idea: Have students research news coverage about other high-profile, targeted killings carried out by the U.S. military (against known terrorists, for example). Were the terms "assassination" or "murder" ever used in straight-news coverage?
Another idea: Tweet to one or more standards editors at major news outlets and ask them whether they think the term "assassination" should be used to describe Soleimani's killing and why.
Ben Casselman, an economics, business and data reporter for The New York Times, tracked the gender and race of sources quoted in final versions of his 2019 stories and shared the results on Twitter on Dec. 31, "for accountability." Of the approximately 400 people Casselman quoted in 2019, he found that 42% were women, 15% were people of color, and nearly half were white men. Casselman said that he "started doing this because I believed it would improve my journalism. A year in, I'm even more convinced of that." He plans to track the diversity of his sources again this year.

Discuss: How can a journalist ensure source diversity? Is it important for sources to be diverse? How can a lack of source diversity hamper news coverage? In what ways can quoting diverse sources benefit news coverage?
Idea: Have students read and review Casselman's Twitter thread. Then have students track and analyze the sources quoted by one straight-news journalist during a one-year period, following the same guidelines Casselman did. (Note: Like Casselman, students may not always be able to determine sources' racial identities.)
After 161 years, the Martinez News-Gazette newspaper in California published its last print edition on Dec. 29. Established in 1858, the biweekly was one of the state's first newspapers. It covered the city of Martinez, the seat of Contra Costa County located northeast of San Francisco. While the news organization's future as an online publication appears uncertain, the News-Gazette posted local news and sports stories to its site this month.

Another Northern California newspaper, the Mountain Messenger — the state's oldest weekly newspaper, which once featured Mark Twain's byline — will likely cease publication within the next couple of weeks, when Don Russell, the newspaper's editor-publisher, plans to retire, according to the Los Angeles Times. Russell has been unable to find a buyer the newspaper.

Related:

Discuss: What is the impact of the closure of a local news outlet? How does local news coverage help communities and their residents? What "watchdog" functions do local journalists perform?

Note: One vital function of local journalists is to attend public meetings of governmental bodies, in part to report on municipal matters, but also to local government leadership for any signs of malfeasance.

Idea: Have students research the state of local journalism in their region. Are there any communities lacking news coverage? If so, what happened? Did a local news outlet recently shut down? How long has the community gone without news coverage? Once students have explored these questions, have them interview a representative sample of community members to discover how they feel about the loss of local coverage.
Right-wing conspiracy theorist Alex Jones has been ordered to pay more than $100,000 in court costs and legal fees for repeatedly promoting the falsehood that the 2012 mass shooting at Sandy Hook Elementary School in Newtown, Connecticut, was a hoax. Neil Heslin, a parent of one of the 20 children killed in the shooting, brought the defamation suit. Jones faces additional lawsuits by other victims' families who say they have been subjected to harassment and death threats from Jones' followers.

Discuss: Are conspiracy theories just harmless "ideas"? Does the First Amendment protect people who publish conspiracy theories? What are the exceptions to First Amendment protections? What counts as "defamation," and who decides? Does factual information about a person ever constitute defamation?
Related: "A Quick Guide to Libel Law" (Freedom Forum Institute)
What else did we find this week? Here's our list.
Thanks for reading!
Your weekly issue of The Sift is put together by Peter Adams (@PeterD_Adams) and Suzannah Gonzales of the News Literacy Project.
You'll find teachable moments from our previous issues in the archives. Send your suggestions and success stories to

[email protected]

.
Sign up to receive NLP Connections (news about our work) and Get Smart About News (news literacy tips).
Check out NLP's Checkology virtual classroom, where students learn how to navigate today's information landscape by developing news literacy skills.