More Info
Jack Dorsey, CEO of Twitter.
/ Shutterstock.com
Classroom

Connection:

Twitter's

ban

on

political

ads
---
In marked contrast to recent statements by Facebook founder and CEO Mark Zuckerberg, Twitter co-founder and CEO Jack Dorsey announced in a series of tweets last Wednesday that his social media platform would ban all political advertising starting Nov. 22, explaining that "this isn't about free expression" — as Zuckerberg has argued — and that the reach of political messages should not be bought.
"While internet advertising is incredibly powerful and very effective for commercial advertisers, that power brings significant risks to politics, where it can be used to influence votes to affect the lives of millions," Dorsey wrote.
He continued, in an apparent dig at Facebook: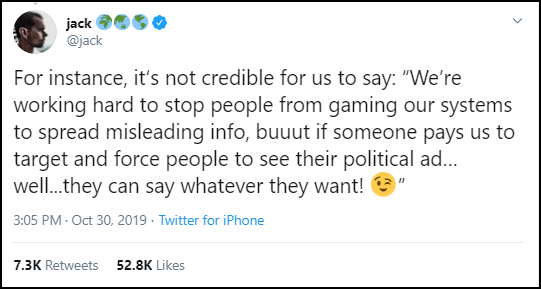 Dorsey made his announcement shortly before Facebook reported its quarterly earnings; during a call with industry analysts, Zuckerberg doubled down on his defense of his company's policies on political advertising. (In September, Facebook announced that under a "newsworthiness exemption," it would continue to exempt politicians' posts and ads from its independent fact-checking program — a position that Zuckerberg reinforced in his Oct. 17 speech at Georgetown University.)
On the earnings call, Zuckerberg noted that Facebook is not motivated by making money from political ads, which he estimated would bring in less than 0.5% of the company's revenue next year.
"In a democracy, I don't think it's right for private companies to censor politicians or the news. And although I've considered whether we should not carry these ads in the past, and I'll continue to do so, on balance so far I've thought we should continue," he said.
Facebook's policies have faced wide criticism, including dissent from within the company. Reaction to Twitter's announcement has been mixed, including both applause and rebukes.
Twitter will "share" a final version of its policy by Nov. 15 (there will be a few exceptions to the ban, such as ads supporting voter registration), and it will take effect a week later, Dorsey said. The new policy also will prohibit issue ads, which Facebook allows.
Note: Adriel Hampton, a political activist in San Francisco, registered as a candidate for California's 2022 gubernatorial election last week  — primarily to protest Facebook's policies that allow politicians to post falsehoods on the platform, CNN Business reported. A Facebook representative told the network that Hampton's content would indeed receive independent fact-checking since he made it clear that he registered as a candidate to circumvent the company's policies.
Related: 
Discuss: Do you agree with Twitter's decision to ban political ads, or do you favor Facebook's policies permitting such ads and exempting candidates' posts and ads from its fact-checking program? Which approach do you think is better for healthy civic discourse and democracy? What role should social media platforms and tech companies play in the fight against misinformation?
Idea: Have students review both Dorsey's and Zuckerberg's views on political and issue ads. Then divide students into two groups (one representing Twitter/Dorsey's position and the other Facebook/Zuckerberg's position) and have the groups debate whether political and issue ads should be allowed on their platforms.
Another idea: Ask students to list the pros and cons of each company's political ad policy, then develop their own policies.